One month later and we're still alive somehow. It's a miracle. No, actually, it's been really fun. Not only has Pip become scrumptiously chubby (11 lbs. chubby!), but his nicknames have also become scrumptiously personalized. He is now known throughout the Bagel home as Cutie (this is Buddha's nickname for him), Pip, Mr. Pip, Pipster, and Pipilo. I don't exactly know how we moved away from Squeaks and Squeaker, especially since he is even squeakier than ever, but that is the beauty of nicknames; they evolve naturally.
This last month has passed WAY too fast, but part of me is glad it has passed. Pip had one awful night right after his birth, which was followed by about four fabulous nights, which was followed by a rather fussy rest-of-the-month. He struggles with gas and pooping. It wasn't always so - those four fabulous days or so were marked by wonderfully regular baby bowel movements - but somewhere along the line, Pip became plugged up, so to speak, and started to really struggle with digestive issues. I gave up dairy a few days ago and I'm hoping that will start to help soon. If not, well, dairy here I come!! It's a lot harder than I thought it would be. Who knew I ate so much dairy before?! It also might help that I FINALLY got Pip to take a binky from me just a couple of days ago and now I don't have to nurse him every hour and a half just to avoid listening to him screaming (ironic since nursing him that often probably contributed to the screaming). :D
At any rate, Pip's digestive issues, translate to sleepless nights, sore arms, and an aching back for mommy.
Luckily, Mr. Pip is not always fussy - just most of the time. When he is not fussing over his intestines, he's downright friendly. Every now and then a little coo escapes and makes my heart melt. And he's super smiley for a one-month-old. Oh, and his smile is TO DIE FOR. Even though the mouth is darling, it's his smiling eyes that just crack me up and make me want to eat him up. I call it his squinty-eyed smile because when he smiles his eyes look like they're closing from the bottom up so that they are shaped like squinty little rainbows. It's hilarious. Adorable. And I'm still trying to capture it on camera. Which brings me to my next gripe. This kid is seriously IMPOSSIBLE to photograph . . . unless, of course, I don't mind having a bunch of pictures of him wailing. :D I tried to take pictures today with all three boys and it turned into a nightmare. Pip was fussy, Bugga was squirmy, and Buddha was talkative (which would wake the fussy Pip every time I miraculously managed to get him to fall asleep). Oh how I wanted to scream! My camera battery saved the boys from my photographic tyranny when it up and died. *Sigh*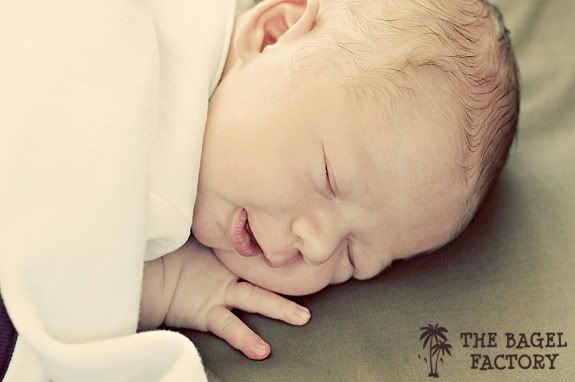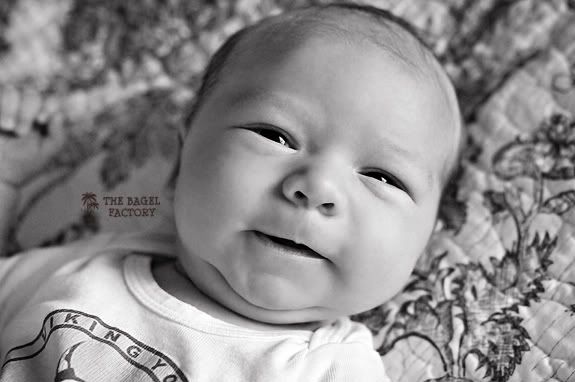 So maybe the tyranny was worth it? I must say, I think I got some good ones here! It's another miracle!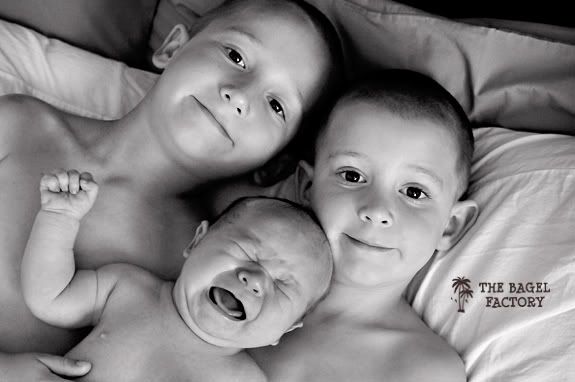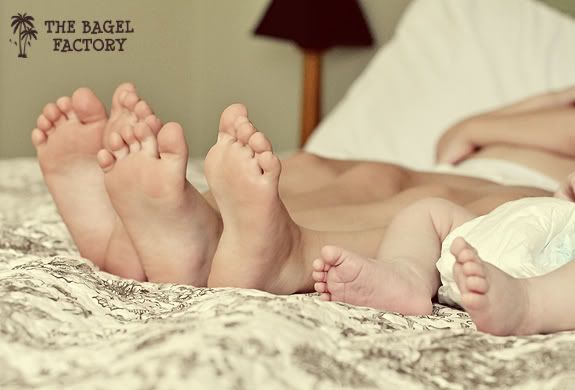 Another reason I'm happy to say good-bye to this last month is because of a medical fiasco we were subjected to that really had us worried for Pip's health and life. We got a call from Pip's doctor's "partner-doctor" saying that his PKU test had come back with a borderline abnormal reading for the complex amino acid disorder part of the test. Normal is a level of 8-100 and his was 7. So I asked the doctor what it would mean for him if he did have this disorder and it got quiet on the other end of the phone as he solemnly responded, "mental retardation, seizures, and sometimes death." He hastily amended that the disorder could be ameliorated by diet control, but I couldn't think past death. Death! It just kept drumming through my head. Death. Death. Death. I called The Chief and he said we would do the only thing we could think to do - fast and pray. I talked to my mom and she put Pip's name on the temple prayer roll. The day after the phone call, we went to Quest Diagnostics for more specialized testing. They actually had to draw blood from Mr. Pip with a needle and all. Poor kid. He's been poked and prodded more than either of his brothers ever were (though he does bleed easier than Buddha, who had to be stuck multiple times in order to get enough blood for his PKU test). We were told that the results of this follow-up test would be available in about four or five days and that our doctor would call us. And so we waited. And waited. And yesterday Pip's doctor called . . . with no results. Argh! Instead, she told us that there was a big conference regarding Pip's PKU results and it was decided that he needed a repeat PKU. Apparently, they were worried about the integrity of the specimen of that first test because it had sat around for a while before being delivered to the lab for testing. I guess this is the sort of shoddy business you face when you give birth at home. Usually the PKU is done in the hospital right after birth. In my case, Pip's doctor had to pick up a PKU kit at the hospital while she was doing rounds. Then, she gave it to the lab at her clinic and they performed the test with a lot of hulabaloo about never having done this test before and with a lot of curiosity about how it was done. Blah. Anyway, I took Pip to Pomerado Hospital yesterday after talking to his doctor. They did a repeat PKU. Today I got a phone call from the doctor's office saying that they had received notice that the results of the disorder-specific tests done last week were pending until the 28th and that they would then be delivered to the UCSD Metabolic Center who would then contact my doctor who would then contact me. I just about lost it and got very cross with the messenger. I pointed out the fact that this is supposed to be a time-sensitive issue; that my child is facing mental retardation, seizures, and death! How could this delay possibly be justified?! So she said she'd call around for me. Then I got a call from Newborn Screening. Oh, and in the meantime we were starting to receive information in the mail about support groups and information centers dedicated to metabolic disorders, etc. It was extremely disconcerting and very nearly IMPOSSIBLE to hang onto that thread of hope that this was all just a misunderstanding. So Newborn Screening said they would pass my phone number along to someone at the UCSD Metabolic Center. She called and gave me the best news of the month. His tests (the ones they said were pending until the 28th) had come back normal. He's fine. She said there is still one more test they are waiting on. The results should be available next week. But if this last test were to have abnormal results, then the other two (which are normal) would have to have been abnormal too. So basically, she said she was 99.9% sure that he was normal, but she couldn't make a 100% statement until getting that last test result. I didn't care. I don't care. This news is exactly the confirmation I needed. Pip has never demonstrated any symptoms of a metabolic disorder (lethargy, vomiting, diarrhea, lack of appetite, stinky pee), so I was perhaps not convinced, but hopeful, that nothing was wrong with him. Now I'm sure.
Pip is healthy and normal.
What a HUGE relief. I mean, to go from "mental retardation, seizures, and death" to normal . . . that's huge. HUGE, I tell you.
And for that reason, I happily say good-bye to Pip's first month of life.
(Note: If you had trouble following that drama, take heart; you're not the only one. I read back through it and found myself confused on a number of occasions. It's not important. Here's the gist of that novel up there - Pip was facing "mental retardation, seizures, and death," and now he's not. There. That's it. Yes, I'm a wordy person. I attend a weekly WAA (word addicts anonymous) meeting. It's not helping.)
As for Buddha and Bugga, well, they love their little brother. Bugga has informed me that Pip's cheeks are softer than my arms. Buddha says he doesn't like Pip's baby acne and dry, sloughing skin, but he does always ask to hold him. They both giggle when he squeaks his way through nursing or when he has a huge yawn or when his flailing arm whacks his face or when his little eyes cross. They are just generally enamored with him and I love it.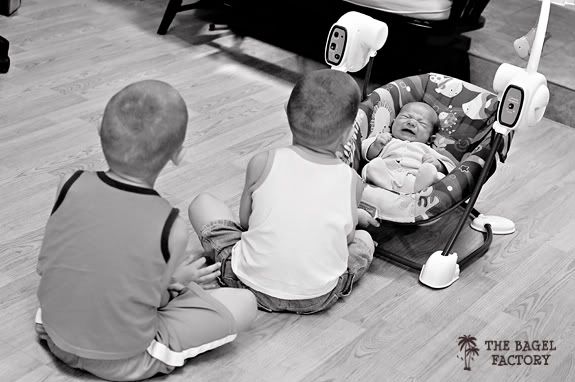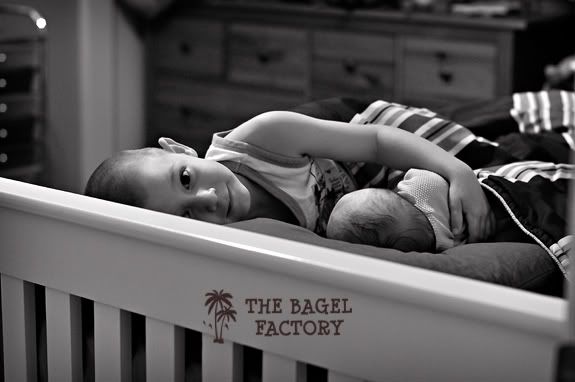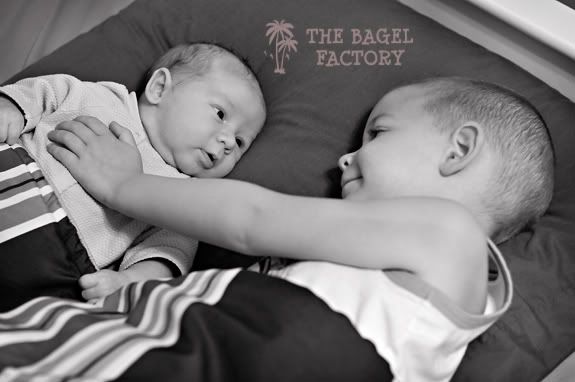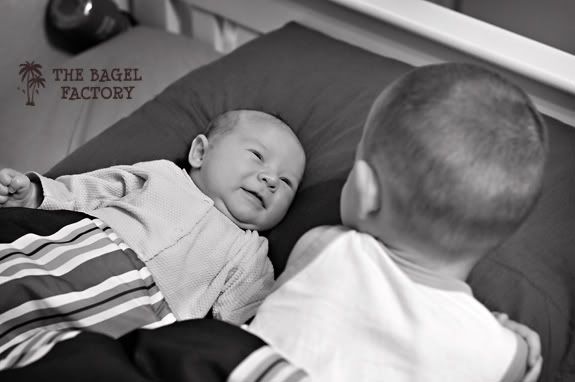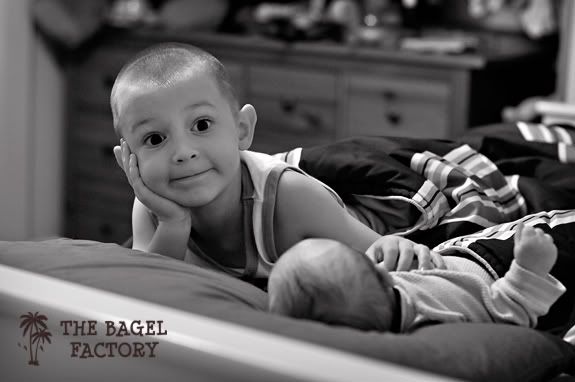 Here are some other cute faces of Pip:
This is my favorite onesie of his. His Uncle Jarem made it for him and it says "Viking Youth Proceed!" Our kids have been given Norwegian names as per The Chief's ancestry.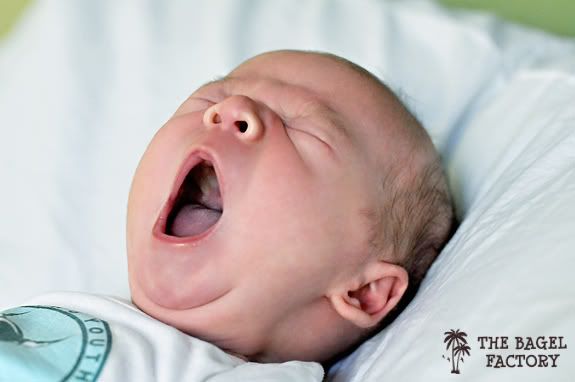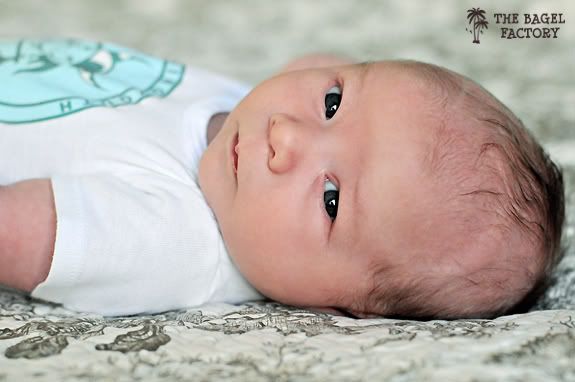 We LOVE the crossed eyes. They are hilarious!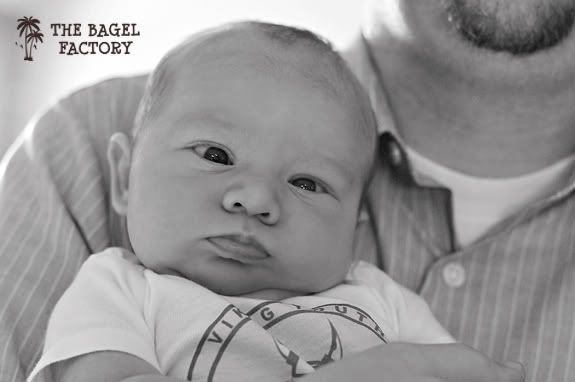 And here's Pip with his Mommy and Daddy: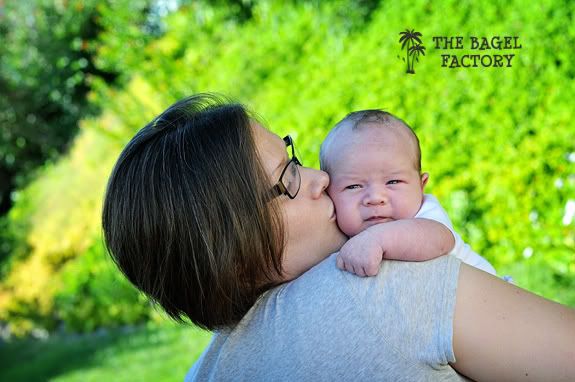 Life with an attorney for a father. :D
In other news from this month . . . .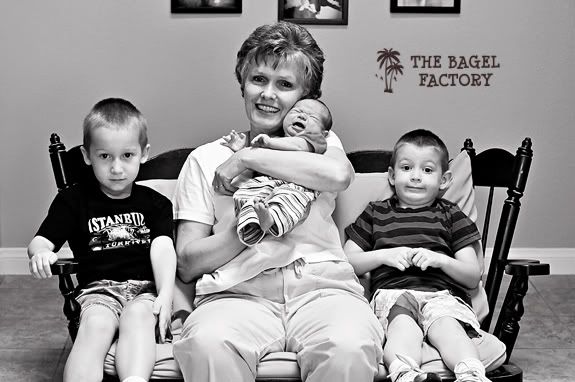 Granny left. :(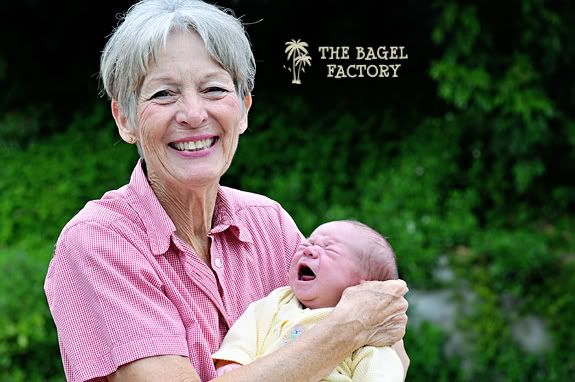 And Grandma came. :)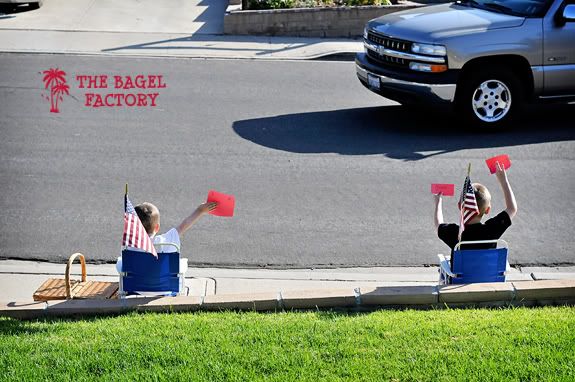 The boys sat outside the front of our house with flags, beach chairs, a picnic, and homemade signs in order to proclaim their patriotism on Independence Day.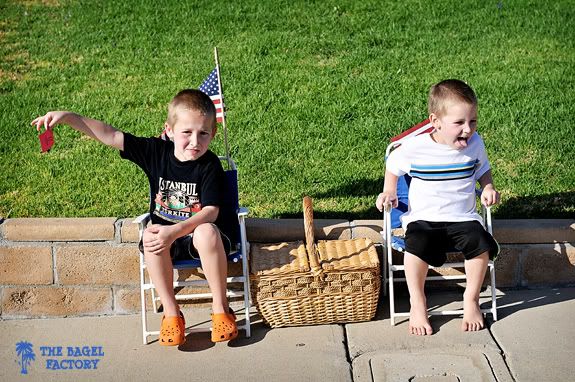 The boys got haircuts and Buddha opted for a (short-lived because Mommy hated it) mohawk.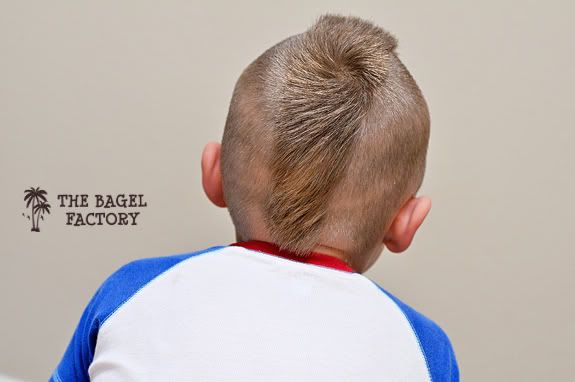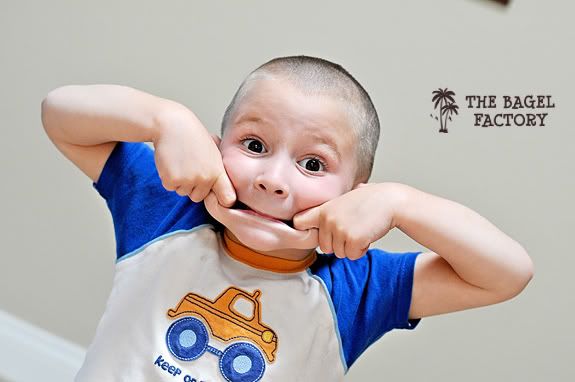 Bugga went with the more traditional all-over buzz (hallelujah).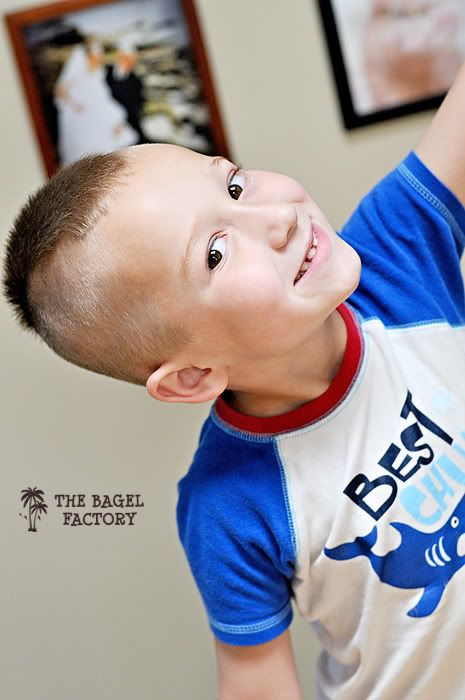 My 29th birthday came and went with this gorgeous and delicious strawberry shortcake made by my wonderful visiting teacher, Lorraine!
Bugga loved it.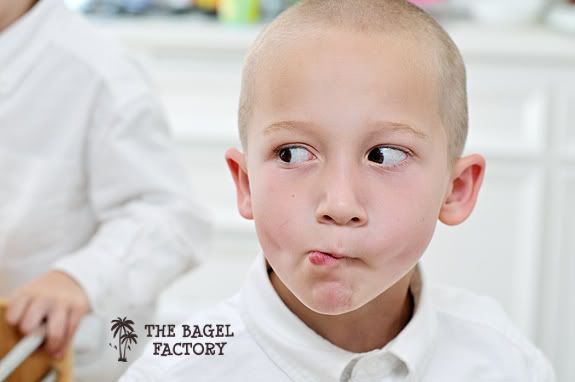 Annnnnd . . . back to Pip . . . .
He also got a buzz as per Bagel family tradition. We buzz all our babies quite early because of Mommy's skin sensitivity. Shedding baby hair irritates the heck out of me! :D Isn't he a cute little baldie?!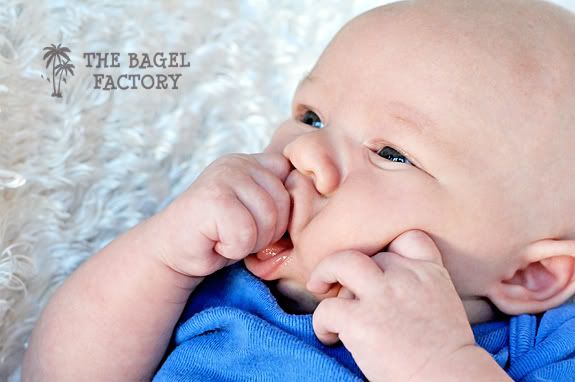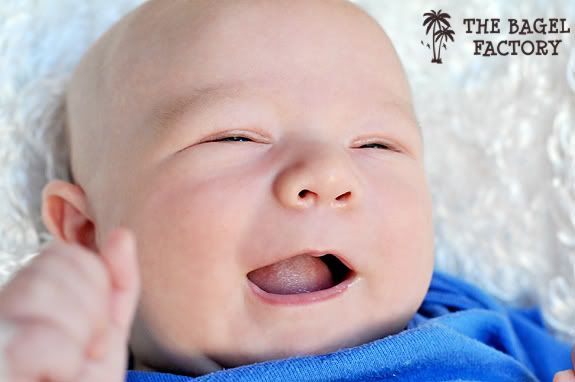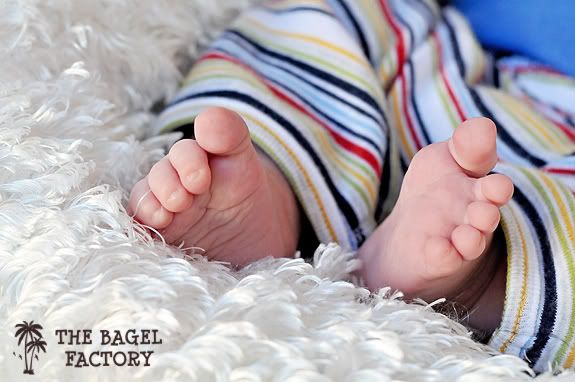 And here I was griping about how hard it is to take pictures of my Pipilo. I take it all back. He's adorable and the camera loves him. And so do we.
The end.