Disclaimer
: I throw my hands in the air with regard to my pictures.  I normally upload them to Photobucket first, but this time I uploaded them straight to my post.  And, with the exception of my one, large picture that I did upload to Photobucket first, they all look horrible and gritty.  I can't explain it and I'm too tired to start over.  So, embrace the gritty faces. :)
------------------------------------
Anders calls coins, "poins."  I love it.
The other day I took a potty break.  Normally I don't close the door when I use the restroom. We're a pretty open family.  But I needed two seconds to myself, so I closed the door and locked it. Naturally, upon encountering the irregular barred entry, both boys set about pounding the obstruction and yelling for me to let them in. Soren got bored and left.  It grew quiet.  Then Anders' jubilant, little voice erupted from behind the door, "Look Mom!  It's in my toes!"  "What is in your toes," I asked?  "The door," he replied!  I looked over to see his little foot wiggling and worming its way under the door.  Get it?  The door was in his toes.  Okay, maybe it's not that funny, but it cracks me up.
So, here's what we've been up to lately:
Car show.
Park.  Dan and I took the boys to the new-and-improved park by our house.  We brought soccer balls, a frisbee, a kite, and snacks.  We spent a fantastic Saturday afternoon as a family.  Very, very fulfilling.  I love my precious family.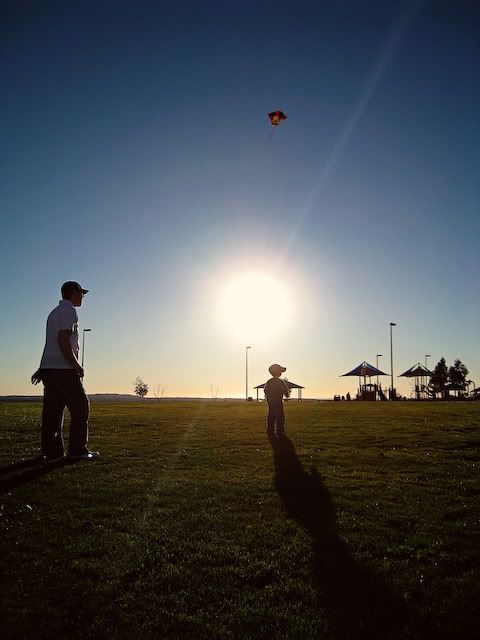 Zoo.  I took the boys to the zoo yesterday.  We had a great time with our friends.  I happened to catch something on video that I'd never heard/seen.  Have you ever heard a turtle's voice before?
Draw your own conclusions about their "activity."  
I'm no turtle expert, but it seems fairly clear to me.