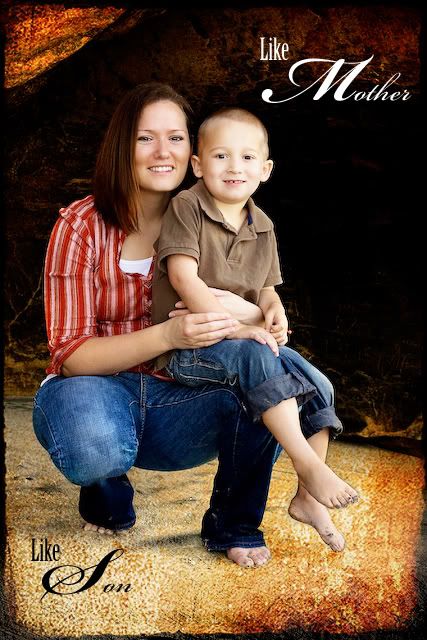 It's scary just how much Soren and I are alike.  Take this morning, for instance; I had just herded the kids into the car for a quick trip to the store to get milk for breakfast.  I dutifully buckled them up, then wandered around the back of the car to make sure our little sand buckets weren't going to get crunched while reversing.  As I hurled myself into the driver's seat and commenced the usual seat and mirror adjustments, Soren sheepishly piped up from the back with, "Um, Mommy?  Can you buckle me up?"  "What," said I?  "I already buckled you in, what happened?" Soren's classic mommy-brain reply came quietly and with a tiny, embarrassed smile, "Um, I thought we already got our groceries and came back home."
He has officially joined the ranks of braincell-deprived (and sleep-deprived) women who return the gallon of milk not to the fridge, but to the cupboard.  Women who put the dishes away in the microwave instead of the china cabinet.  Women who frantically ransack their homes in search of the spectacles perched on their heads.  Women who purchase their groceries then resolutely march out of the store without them.  Women who unintentionally yet regularly misplace, rearrange, and redistribute all the moving parts in their lives (whether that's kids, milk, or dishes), in frequent moments of absent-minded survival mode.
Gotta get Dan home early tonight so he can do some damage control on Soren's new mommy brain.
Hm.  I wonder how one would accurately describe the "daddy brain?"