The title really does say it all. I haven't blogged about our Christmas trips to Arizona and Utah yet. I have tons of pictures that need to be edited and things to be remembered. It's a bit daunting. So, I'm just going to start and we'll see how it goes. Let's begin with the happy news that I've acquired a fantastic widescreen monitor to replace the stolen beauty and reunite with my amazing CPU. It is a joy to have such an expanded view of things again – especially nice for processing photos. And speaking of processing photos, please keep in mind that my monitor calibrator was also stolen, so if my pictures' colors look skewed on your screen, I apologize. Luckily, I have a generous benefactor who has made it possible for me to recover many of my stolen items, so the calibrator is on its way. Now, back to the fun!
Christmas started early for us this year as we rewarded ourselves for Dan's dedicated work schedule throughout the final months of his billing cycle with a trip to Arizona to see the Agle family members who reside there. We spent five fun days relaxing and unwinding with family. The boys loved playing with their cousins, with Grandma's toys, and with Lily (Grandma's pint-sized pup). And Dan, of course, managed to golf twice with his Dad. I spent the vacation chatting with family, reading, taking pictures, and blogging here and there.
Soren watching cartoons with his cousins at the pizza parlor.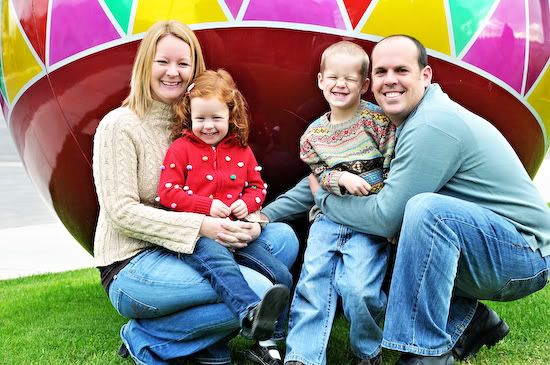 Dan's cute sister's family!


After Arizona, we returned to San Diego for a couple of days to allow Dan to wrap up some business at the office. The drive was uneventful until we got a call from our friend warning us of treacherous snow conditions along the 8 freeway near the western border of San Diego County. And there were! We drove right through snow in Southern California. It was so very odd to pass a snow-covered palm tree and take a picture of a snow-covered sign heralding the proximity of San Diego city. On Saturday, the 20th, we drove to Utah. The drive was pleasant with only one minor surprise: driving through snow in Las Vegas. Again, very strange. We had clear skies and roads up until Nephi where we entered the cloud-covered, snow-battered, frigidly cold Utah County. All things considered, though, I wasn't as shocked by the cold as I thought I would be coming from San Diego. Maybe my blood still remembers since it's only been a year and a half. Anyway, we arrived at Granny and Grandpa's house and, through rounds of hugs and kisses, reveled in the warmth of holiday family togetherness.
They each got to pick a bag of chips for the drive home.



Bugles! Do you guys remember Bugles?! Soren had a great time with these.



Snow on the 8.



Snowy sign reads San Diego 68.



Famous power mills.

On Sunday evening, I received an email from my neighbor letting me know I needed to contact her because there was an emergency. After spending a restless night filled with dramatic speculations, my fears were realized through an early-morning, subdued telephone conversation. "At least no one is dead," I kept telling myself, but my heart sank anyway as I thought of my computer gone, my wedding ring, Dan's car, my…. But after a harrowing two days of hasty communication with police departments and knightly friends, despair turned to hope: wedding ring, found; car, found; computer tower, still there…. Symbols, necessities, and memories; all still intact thanks to the grace of God.
Despite the burglary, Christmas was happy and fun this year. The Ogden clan descended on my parents' home this Christmas Eve (though many, including the matriarch, were detained in other states by dangerous weather conditions). We chatted and laughed as if we'd not been apart for years and years. I have not seen many of my cousins for ages. At the close of the evening, my father called a gathering and, interspersed with caroling, we were invited to bare our testimonies of the divinity of Christ. I shared my gratitude with my family for the Lord's grace in giving us living prophets to guide us today. I implored everyone to follow the prophet always, a sure way to arrive safely in the celestial kingdom to live out eternity with our beloved families. Soren also stood to very shyly bare his whispered testimony, "If Jesus doesn't have a car, He should get one." Boy we had a good chuckle over that one. As Soren grows older, it is fun to watch him embrace the magic of Santa Clause, sending wish lists to the North Pole and setting out cookies for Santa, and carrots and Cheerios for his reindeer on Christmas Eve. It is also fun to realize that, as we repeat certain acts year to year, we are creating traditions that will hopefully endure for lifetimes, the most important of which is spending quality family time together. Dan got me the best Christmas present ever – the most comfortable neck strap for my heavy camera. I love it. Suddenly my bulky behemoth feels light as a feather around my neck and shoulders, a blessing indeed. We also managed to "go sledding" (translation: sit by our sleds and eat a snow feast while others sledded around us), visit the Holdman Christmas light show, and tromp around enchanting Temple Square. The boys loved wrestling with Unkey Dino (though that precious title is being adamantly put away by a very intelligent little Anders man who is out to prove the depth of his language acquisition skills), and I loved playing with Sara's not-so-little baby Jude. What a happy, chunky babe! He absolutely adores his Grandpa already, and rightly so as you'll see the devotion of the man in the following pictures. Granny was the source of much entertainment for my boys, helping them crack piles of peanuts and make little Christmas crafts. What a great Granny! And Daniel, on two very memorable occasions, nurtured Soren's love of cooking by letting him help combine ingredients for making bread in the bread machine. Soren was in heaven. I have the greatest family. Before we left Utah, we managed to romp in the snow one more time and build an…um…BYU-attending, Muslim snowman.

Holdman lights show
Playing in the snow at Rock Canyon Park. (Yes, that is my four-year-old potty mouth cursing his "stupid" glove. *Don't I feel sheepish*)


Soren's testimony

The boys did manage to get sick in Utah, as was to be expected. Thankfully, they have strong constitutions and are recovering just fine. We apologize to friends and family for failing to send out a family Christmas card and letter. In all fairness to Dan (who wanted to send one out), it is completely my fault for vetoing the idea. I felt that the money would be better spent elsewhere (like paying off school loans) and knew that the people most interested in hearing a synopsis of our lives already read the full script at The Bagel Factory.
While I cannot tell you what the most memorable thing for Dan was in 2008, I can tell you how the year changed me. I presume it's fairly obvious already. While I used to be interested in blogging purely for the preservation of my family memories, now I blog with a much more urgent goal – the preservation of family, period. Proposition 8 changed me, totally and completely. I view my previous self with a sort of disgusted amusement. I was asleep. And when I awoke, I moved about in a very tiny, very comfortable, very safe bubble. Following the admonition of my church leaders, I got involved with the debate online, creating a blog, educating myself on the talking points, and sending my thoughts and opinions into cyber space. I also volunteered to head up our ward's sign waving effort, spending morning and evening for three weeks straight declaring my support for traditional marriage while building my shoulder and bicep muscles and schooling myself in the finer arts of ignoring wild accusations and threats. I now consider myself an activist. The journey has been a labor of love and dedication. I was never one for politics and usually avoided hot topic conversations that could result in me saying something that might offend someone else. As I've come to understand the importance of the traditional family unit, both in terms of Heavenly Father's plan for us and in terms of the success of our society and government, my apathy has been replaced with a burning desire to not only defend and promote traditional marriage, but also expose the detrimental and destructive nature of any attempted imitation or redefinition.



So, what began as "just another year" for me, ended with a radical change in my perception of our society and government and my relationship with the Lord and my own family. In short, this election year altered me forever. Pacifist Liz is no more. Activist Liz is here to stay. I hope I never go back to sleep where family and children are concerned, and I hope to inspire others to extend their inherent need and compulsion to protect their solitary family unit to protecting all families, present and future, everywhere. Imagine with me for a second; just imagine the force for good that we could be if each of us made a decision to work toward becoming an activist for the most central unit of the Lord's Plan of Happiness – the family.

New Year's Resolutions for 2009
1. Continue to strive for balance in my life. This eludes me on a regular basis. I can sit down at the computer with the pure intent of spending a mere five minutes responding to personal emails and find myself still there, bum numb, five hours later.
2. Give my kids more hugs and kisses. In short, make a stronger point of showing them they are cherished.
3. Make dinners. I'm sure many of you excellent homemakers and mothers will read this with incredulity, but I never cook. Really, never. I am a chronic snacker and tend to make excuses against cooking (i.e. eczema makes it difficult to wash all the dishes afterward, kids are always cranky at dinner prep time, husband has an irregular evening arrival time, etc., etc.,). But I am fully aware of the importance of sitting down to a family meal each evening and discussing the day's events together. I am tired of the guilt which naturally comes when one knows the right thing to do, but makes excuses to follow a different path instead. So, dinner, every night. Cross your fingers. This will be a huge success for me if I can manage it.
4. Laugh more. Society may be degenerating, but there is still plenty of quality humor floating around out there. If you need a good laugh, just call my father-in-law; he's always got a good joke up his sleeve. President Hinckley always made a point of reminding us to be happy in the face of trial; to look for the good in every situation.
5. Educate myself. From my online forays in the defense of marriage, I have discovered one glaring reality – I am not as knowledgeable as I would like to be and could stand to commit to continuing education. There is so much relevant information out there when it comes to this specific issue. I want to read, absorb, and regurgitate all the studies and research and opinions and news releases that prove the value of preserving the traditional definition of marriage and family.
6. Serve more. I have been the recipient of endless service this year and want to be better at "paying it forward." From my ectopic pregnancy scare to our home burglary, family and friends have readily offered assistance and support. I appreciate them and hope to come to be appreciated by others for the same reason. We are blessed with so much, it would be a crime to not offer assistance and love where there is deficiency.
7. Budget. Create one and stick to it. Pay off school debt with money saved.
8. Be prepared. Fear plagues the unprepared. I want to collect food storage and emergency essentials for the preservation of my family in this era of economic and moral instability. I need to.
9. Give God Equal Time. I spend so much time defending marriage as commanded by Him, but I fail to dedicate any significant amount of time to the daily nourishment of my soul through prayer and scripture study. I know I can and must do better. I had an epiphany recently that while I know I will never lose my testimony of the gospel, regardless of my lack of scripture study and prayer habits, Satan holds more influence over my emotions when I am not feeding my spirit daily. I will always believe in the restored gospel, but without constant nourishment, my hungry spirit is more prone to discouragement, depression, and despair. I must rededicate myself.
10. I really can't think of anything else but wanted to let my slightly OCD nature shine through by refusing to leave my list at nine instead of a nice, round, even number like ten.


Now, on a parting note, Pearl Diver, has had a facelift. Skip on over and check out her new look. And while you're there, don't forget to pick up a Pearl Diver badge like the one above for your own blog. If you are feeling the teensiest bit of burning activist in you, you could even join the Pearl Diver community by clicking the "follow this blog" link located under the heading "Pearl Patrons" in the sidebar.
Merry Christmas and Happy New Year, my dear friends.
~Liz