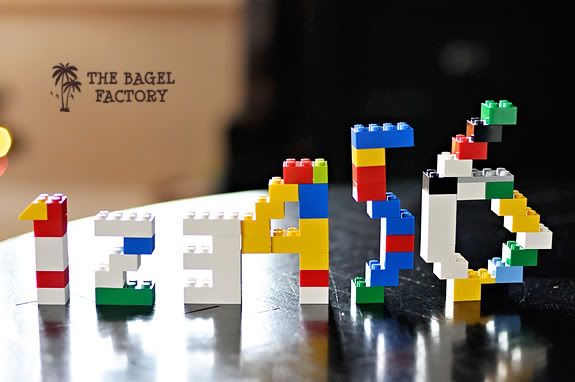 {Buddha's own Lego creation in honor of his birthday.}
Today was Buddha's sixth birthday and boy did we celebrate! And The Chief got to stay home and celebrate with us! Which was Mommy's favorite gift of the day. But back to Buddha . . . . :D First, he picked crepes for breakfast, then he went with his dad and brother to get a haircut, then we headed over to the Fleet Science Center as a family to watch the Hubble Imax movie (which was PHENOMENAL - if there is one playing near you, GO SEE IT!) and ended up walking out with memberships to the Fleet. I can't tell you how excited I am about that! Afterward, we again let Buddha pick what he wanted to eat for dinner and he chose IHOP. So, it was breakfast for breakfast and breakfast for dinner. Absolutely my kind of day! When we got home, our wonderful neighbors came over to sing, eat cake, and watch Buddha open presents. Our neighbor, Debbie, is so awesome! She made cakes for both of the boys last year and is doing it again this year! Since Buddha is on this crazy (and commendable) healthy eating kick, she made him a delicious carrot cake. She and her husband, Glen, also gave him $10 and a
Harry Potter and the Deathly Hallows
poster. He was THRILLED! The rest of his gifts included a remote control walking dinosaur and dinosaur t-shirt from Grandma and Grandpa Bagel, a remote control monster truck, art and craft supplies,
Magic Tree House
books 1-8, and clothes.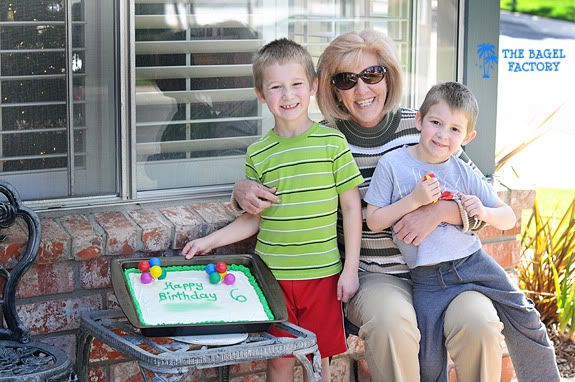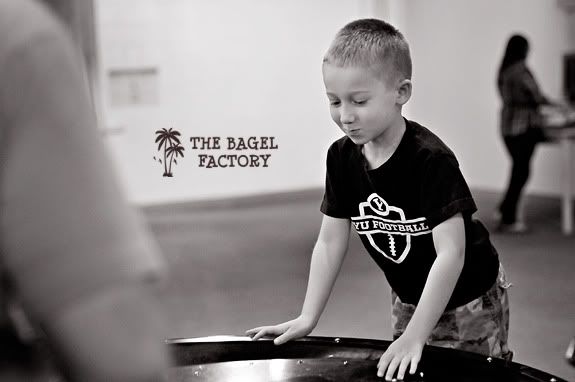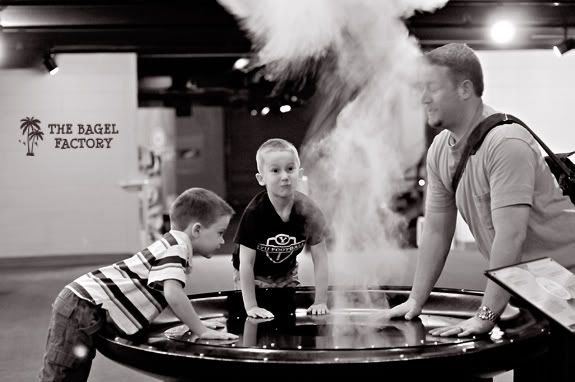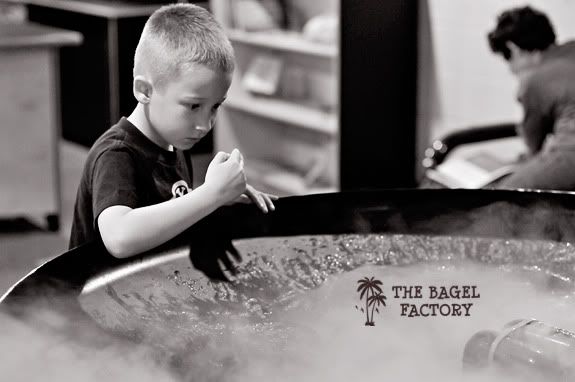 What a fun birthday our Buddha had today. We are so proud of him. He is helpful and caring, smart and funny, disciplined and creative. He wants so much to be the boy his Heavenly Father wants him to be and we love him for that righteous desire and for many, many countless other reasons. This child that is ours is meant to be ours and we are so grateful to our Heavenly Father for sending him to us; we love him dearly.
My two favorite memories from today include The Chief's impromptu lecture on automobile engines and how they start, and a sweet moment at IHOP. First, let's talk shop. The Chief drew a picture for us (obliging my exclusively visual learning capacity) as he explained the process of combustion. He got through with his awesome lesson and decided to test Buddha, asking him which three elements were necessary for combustion to occur and the car to start. Buddha didn't even hesitate. He held up his fingers and said, "Okay! You need a spark, gas, and oxygen!" Oh how this boy NEVER ceases to amaze us with his ability to not only retain information, but actually comprehend it prior to retention! He is so fabulous.
And here now was the heart-melting moment of the day for me. At IHOP, the kids were given kids' menus from which to choose their dinner. On one side, they had all the meal options, on the other were games and activities for the kids to do with their crayons. One such activity was a paragraph with a bunch of blank lines for the child to fill in with whatever appropriate answer corresponded with the directions contained in the parentheses below the lines. Kind of like so (I can't get the parentheses to line up directly under the line, so just work with me here):
"Blah blah blah blah blah __________(your name) blah blah blah blah blah ___________(friend's name) blah blah blahddy blah . . . and so on . . . ."
Well, the second blank line asked Buddha for a friend's name and I glanced over to see that he was writing his little brother's name there. Stupid post-pregnancy hormones made it impossible for me not to tear up! I was definitely a goner with that. They fight so often, as little boys do, and every now and then I have to remind Buddha that his little brother will be his best friend all his life. This was that validation every mother needs to see once in a while; validation that their kids are on the right track. It was just SO CUTE!
Happy Birthday to our Buddha Boy and Happy Veteran's Day, too!