We have the coolest neighbors ever - Glen and Debbie. The boys love them. We invited them over for dinner a while back and they came bearing four tickets to Knott's Berry Farm for our family! So, we used them this past Saturday. It was pretty darn warm (Why does that always happen to us?
Remember this
?), but we had tons of fun anyway. We made the day purely about the boys and spent the whole of our time in Camp Snoopy and the other area with the Log Ride (can't remember what it's called now).
In fact, *speaking of the devil*, the first ride of the day was the Log Ride. Anders and I sat in front; Daddy and Soren in back. I had the diaper bag with me because of course I can't leave it in the stroller with my wallet in it and everything. But I wasn't sure where to put it. The bench extends into the front of the pointed log, but it's very narrow. I regarded the floor as an even more dubious option, however, as I noted the water sloshing to and fro through the cracks. So, the diaper bag was propped between my feet on the bench in front of Anders. And . . . of course it toppled from its precarious perch at the first slight bump. As it fell onto the soggy floor, that invasive water sloshed right into all 15 pockets and zippers and compartments that I just had to have when I searched for a diaper bag. I handed my drowned cell phone back to Dan to work on as we wound our way through the "upper rapids." Anders got scared when we zoomed down a short drop in the dark, but following the free fall at the very end, the one after which I was sure I'd be calming a petrified 2-year-old, he turned around slowly, regarded my sprinkled glasses calmly, grinned and quipped, "You got splashed!" Soren, on the other hand, promptly declared that he didn't like the Log Ride. And when we saw the pictures of us coming down the free fall, sure enough, his face said it all. His eyes and cheeks were all bunched up tight and it looked as though his heart was residing in his cranial cavity. When we got back to the stroller, we emptied out the diaper bag, arranging the waterlogged gum packets on the stroller tray to dry in the sun, and turned the whole thing upside down to dump out the excess river rapids we had retained. This was all performed directly in front of the massive line of humanity awaiting a turn on the Log Ride. People shifted, whispered, pointed, then made readjustments to their carry-on baggage. Rightly so. Rightly so.
Now, I'm not sure how many of you have been to Knott's Berry Farm, but for me, it's been years and years and years since I last went with my own family as a little girl. And I didn't remember that trip at all. But I must say that on Saturday, I was fairly surprised at the Camp Snoopy resemblance to a county fair. Indeed, we had many of the same rides at the San Diego County Fair this last summer. Obviously, the boys were thrilled with whatever they could ride, but for me, I suppose I realized that KBF is really for the adults with its innovative, gravity-defying, twisting, turning, looping roller coasters. Dan and I realized that we want a day all to ourselves at a big theme park like Magic Mountain so that we can ride all the rides we always have to wistfully skip with young children in tow.
But really, seriously, we had a great time on Saturday! We even stopped to watch a couple of those crazy adult rides and in one instance, watching was perfectly fine for me. My stomach can't handle extreme thrills the way it used to be able to. Or maybe it's just that I feel my own mortality more . . . now that I have kids. Who knows?
THANK YOU, GLEN AND DEBBIE!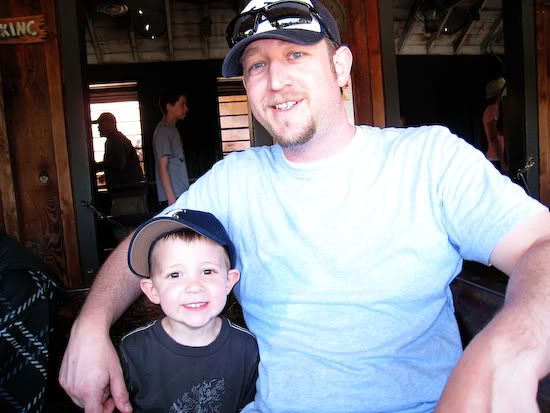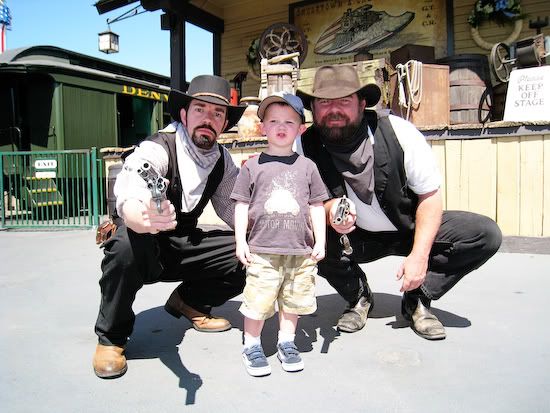 These guys held up our train (even tried to take my wedding ring).  Soren was afraid of them because they had guns.  I'm glad he has a healthy fear of fire arms, but we tried to tell him they were fake and he still wasn't having any of it.  Anders, on the other hand, marched right up there and made a "stinky face" for us.  What a ham.  :0)