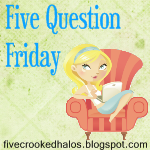 1.
Do you have any nicknames and if so how did it come about?
Yep. I sure do. Lizard, Lili, Lizzie. But my favorite nickname is the one my husband calls me: Mama. I call him Pops and he calls me Mama. I love it.
2.
What is your birth order amongst your siblings?
I'm the third of four. I'm the one nobody remembers. :D j/k
3.
In a movie of your life, who would play your significant other?
Kenneth Mitchell as Ralph Cox "Coxy" in Miracle
.
He's so my husband. It's the 'stache. And I hate the 'stache. Love the hubby, but hate the 'stache.
4.
What is currently your favorite song?
This one is AWESOME!
5.
Are you saving your money for anything right now? Big or small purchase?
We're always saving for some project or other! Right now it's a big one. We want to rip out and redo our entire backyard (Eep!).