What is "large?" Shall we wax philosophical? Is it the Pacific Ocean or Shamu at Sea World or the shadow cast by the Empire State Building? Perhaps all three? Is "large" relative to the noun it describes? Let's find out. We bought a bean bag from Craigslist. I've been wanting a bean bag for a while now for photographing infants, but I didn't want to spend the equivalent of a couch to purchase one. I couldn't stomach that. So I've been haunting the Craigslist postings just waiting to pounce on that perfect opportunity. It presented itself Saturday morning when I happened upon a post that sported a description AND the all-important picture. The description of this bean bag was as follows: "Large bean bag. Light yellow. No ripes [sic] or tears. Call if interested." So I did. And I did my duty by my future clients by ensuring that the item in question came from a smoke-free and pet-free home. As we drove northward to collect my new find, I was feeling quite proud of my bargain-shopping self. I felt brilliant. I felt savvy. I felt like giving myself a nice, long, well-deserved pat on the back. And then we got there. And we saw it. Sitting there on top of the previous owner's car it pretty much covered the entire area of the hood. The picture didn't do "large" justice. The description didn't even do "large" justice. Hesitant though I was, I advanced. I did my inspection, smelling the bean bag, searching for the "ripes" and "tears" that were promised to be nonexistent (they were), then forked over the $35 asking price. And that's when things got interesting. The Chief and I hauled the bean bag to the car, pretending to let the boys help. I opened up the back and we started stuffing . . . and huffing . . . and puffing . . . and punching and stuffing and huffing and puffing and pounding and kicking and growling and grunting. And still we couldn't close the back doors and, standing back, it totally looked like we were kidnapping the Michelin Man, dog and all. After sheepishly giggling over our Shamu-of-a-bean-bag, then checking myself after looking at The Chief's less-than-amused face, I became all business. I yanked the offending merchandise out of the back, ordered the boys into their car seats, then stuffed the bean bag into the empty space between them and us. It fit. Barely. It was a miracle. Buddha and Bugga rode home with a giant, makeshift airbag in front of them. Buddha got sick. Probably because he couldn't see the road. Bugga's legs started to hurt until he pulled them out from under the bean bag and curled them up under him. We rolled down the windows to help Buddha and ponderously made our way home.
It took me all afternoon to clean up the bean bag, but boy did it clean up nicely. It's a pleather sort of exterior, so I scrubbed away at it with Simple Green and you would not believe the amount of filth I removed! When I was finished with it, it glowed like a full moon.
But there was still the problem of where this Pacific-Ocean-Bean-Bag would live. Needless to say, I was unprepared for the size and since So. Cal. doesn't necessarily boast the largest of homes (unless you're a millionaire or a celebrity . . . or both, of course), we don't really have an excess of space with which to work. So I moved ottomans and dragged rocking chairs and hauled tables, etc. In it's second-to-final resting place, the boys broke it in quickly, dubbing it a "bean bag pool" and launching themselves into it from the diving board couch. What came to mind then were the words "NO!" "Careful!" "Watch out!" and "Stop that!" It had to move. More shifting and planning and rearranging ensued.
That bean bag wore me out. And I went to bed fretting over "large" and "too large" and "behemoth."
And then this morning there was this: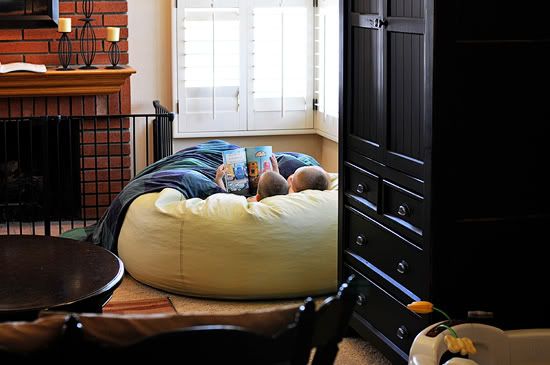 And the word "large" took on a whole new meaning. One you're not likely to find in any traditional dictionary.
Large \'lärj\
: Totally worth the surprise, the inspection, the holey wallet, the grunting, the huffing, the puffing, the pushing and pulling, the cramming, the squishing, the cleaning . . . and cleaning . . . and cleaning, the hauling, the moving, the rearranging, the diving, the swimming, and the carving-out-a-niche for this lovely piece of furniture that brings together two little buzzed heads on a Sunday morning in a quiet moment of heart-melting brotherly love and sharing.
Large \'lärj\:
Totally. Worth. It.