This year my birthday was interesting . . . and fun. I had so many people ask me what I was doing, what I was going to do, and what I did. Well you're in luck, because it just so happens that yesterday morning I had decided to photographically document every waking (and sleeping) moment of my day. Okay, maybe not every moment, but there was enough, be it mundane or exciting, to keep me and my shutter-finger happy. So strap yourselves in and let's be on our way . . . .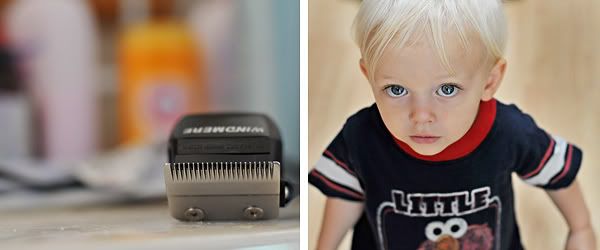 My 28th birthday started bright and early when The Chief requested a neck shave before heading to work. Glamorous birthday beginning, eh? I obliged begrudgingly as I slowly wormed my way out from under the warm comforter. The boys were already awake and bouncing off the walls as they do every morning and shortly before The Chief left, our little friend "Big Blue" came to spend our co-op morning with us. We love "Big Blue." Who wouldn't love those big, crystal-blue eyes?!


It didn't take long for the DVD player to start its daily workout; beginning with the great vocal exercises featured in
Aristocats
. :P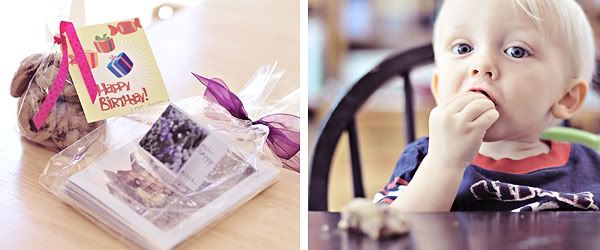 I busied myself by starting the mountain of cleaning projects I wanted to get done, but it wasn't long before the doorbell rang and a good friend, Amber, stood there in my front entry sporting a bathing suit and bearing chocolaty goodness. (Thank you, Amber!) "Big Blue" convinced me to share my cookies with him.

Not long after that, another friend, Tamara, brought by a gift from my visiting teacher, Lorraine. Lorraine takes beautiful pictures and turns them into greeting cards. I love them. (Thank you, Lorraine!) Then Tamara's kids, whom I have the pleasure of working with in Primary, handed me a homemade birthday card. There would be a picture of it here, but my boys loved it so much and spirited it away before I could get my camera on it. However, I can still remember my favorite part of the card, which is when Emily wished me a happy birthday "and a Happy New Year!" (She's smart to cover all her holidays for the rest of the year, eh?!). :P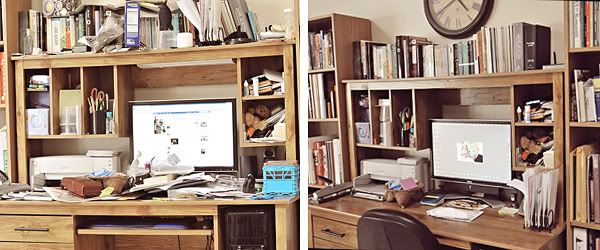 Here is one of the those aforementioned cleaning projects that I did manage to finish. (The
only
one I managed to finish, as a matter of fact). Hallelujah.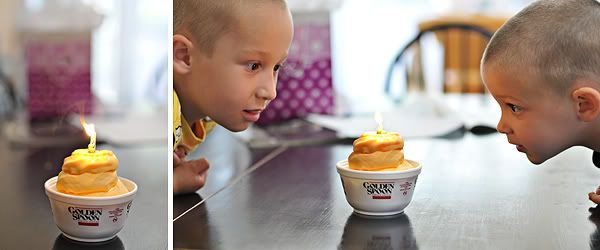 When Amanda came to pick up "Big Blue," she brought me (and the boys) a birthday treat from Golden Spoon. I love Golden Spoon. Especially their "tart" selections. Yesterday's delight was Tart Mango. Mmmmm. As you can see, we plopped a candle in the center and took a proper birthday picture.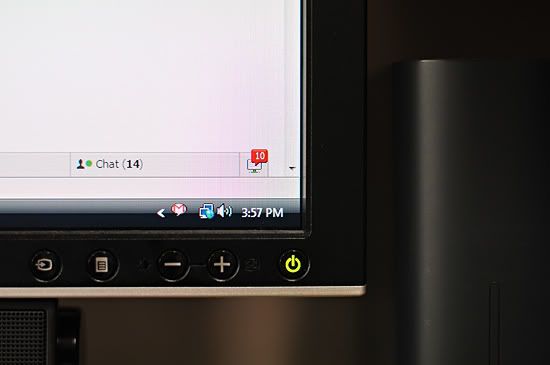 And of course I checked my e-mail, Facebook, and blog obsessively as I reveled in the outpouring of remembrance and happy birthday wishes from friends and family all day long. If luck is measured in friends and family bonds (which I happen to think it is), then I have got to be one of the luckiest gals alive.

These pictures make me laugh. There I was trying to take advantage of Bugga's nap and sneak in some quick shut-eye of my own. And, as I had set about to document the whole of my day of birth, I endeavored to capture myself sleeping as well. Thus the poor attempt at a self-portrait featured here. The clock is what sets me to giggling. The Chief surprised me by coming home early (I love it when he can come home early), and I had taken so long trying to get that dang self-portrait, that I never actually got to sleep. Doh. But hey, at least I have record of the attempt, right?!

So, The chief, like a few others who made the trek to our home yesterday, came bearing love and treats. His card goes beautifully with the sentiments he wrote to me yesterday. (I love you, too, Pops. Thank you for EVERYTHING. You are my hero.)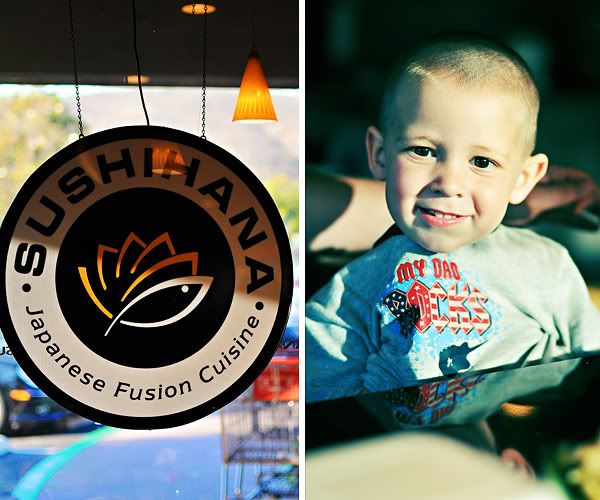 After wrangling the boys into clothing (they spend all their summer days naked), we headed over to Sushihana, as per my birthday dinner request. I love sushi rolls. As you can see by the plethora of photos that ensue, good times were had by all at Sushihana. Good times and good eats.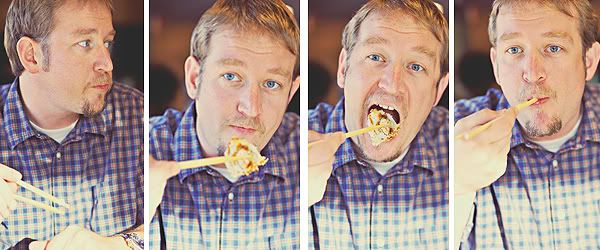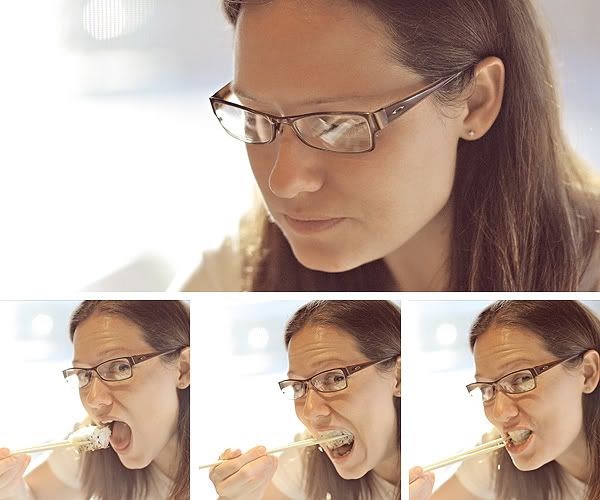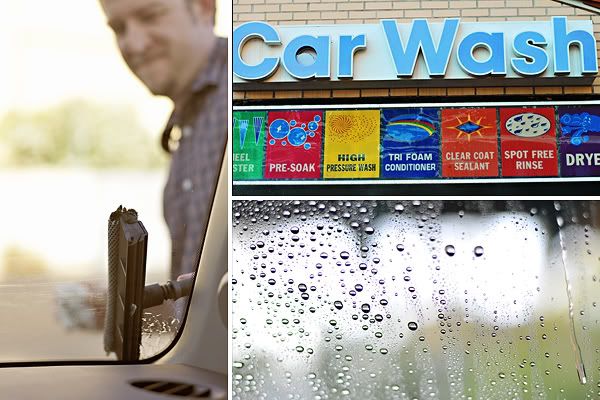 After dinner, we jumped briefly out of birthday mode to clean the car and drop off the sushi leftovers at home. And then . . .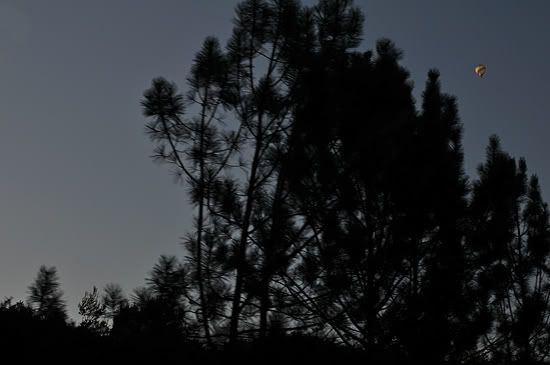 . . . then it was on to Torrey Pines Beach. One of my favorite things to see here in SD is the multiple hot air balloons framed by the fiery, setting sun each evening. This one I managed to shoot as we were speeding down the freeway. This vision has such an inspiring feel to it.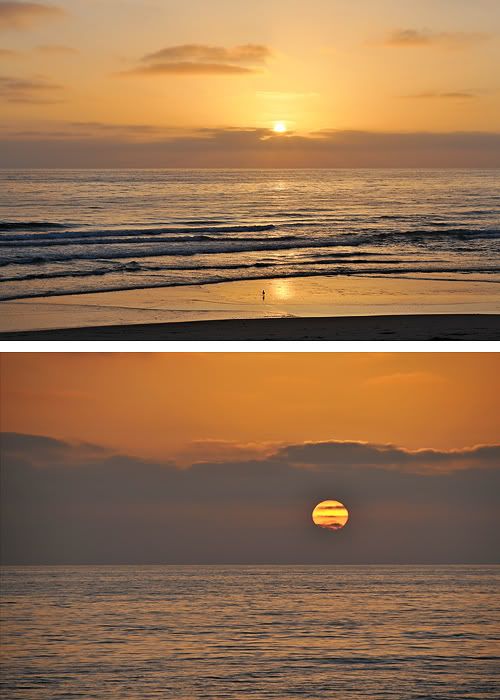 There were quite a few people waiting for parking spots along the single, pathetically-insufficient strip of parking spots located at Torrey Pines Beach. The Chief was worried I wasn't going to be able to shoot the sun setting due to the parking situation. Finally, as he spotted a potential departure, I jumped out of the car and trotted up the road a bit so as to get a better angle. I made it just in the nick of time. I love beach sunsets.

But what I love even more than beach sunsets is taking pictures of children and families at the beach. There is something so unrestricted about the ocean that sets people at their ease and allows for perfectly natural photography. And, I happen to adore silhouettes as well, so this was literally the perfect way for me, and my family, to celebrate my birthday. I was in heaven at the beach.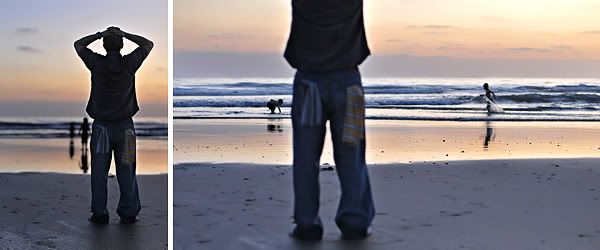 I couldn't resist these pictures. When The Chief finally got parked and headed down to the sand with the boys, Bugga looked up at him and asked, "Dad, can I take my shirt off?" Eventually, they both stripped their shirts off and the tops wound up in The Chief's back pockets of his jeans. These pictures speak to me of freedom and whimsy.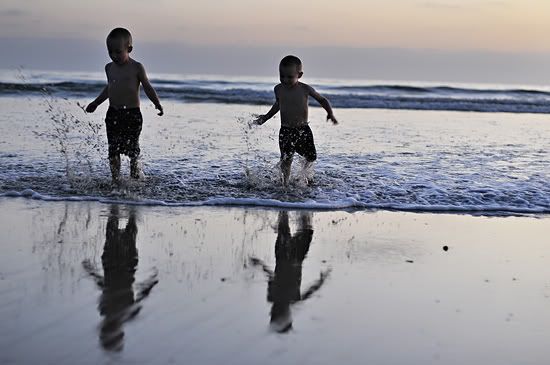 I just LOVE these reflections and the angle of their bodies as they jubilantly propel themselves forward out of the reach of the encroaching wave.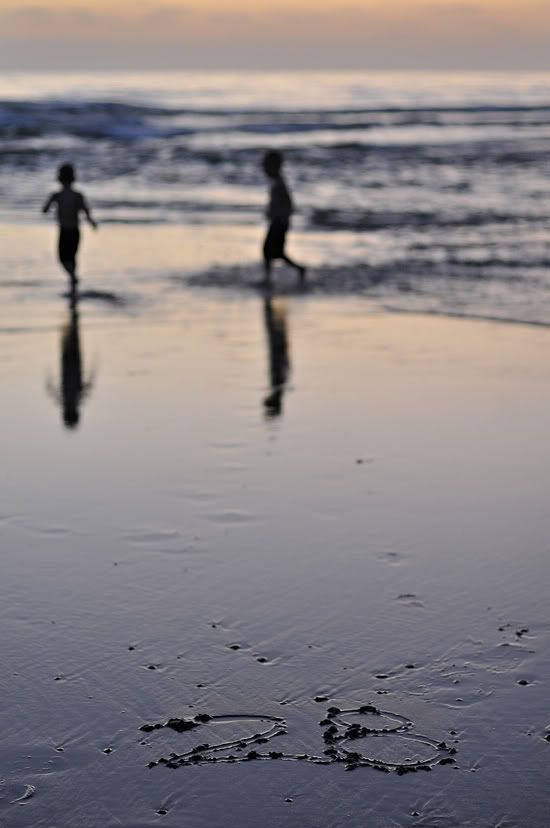 Those two little black blurs in the background are the crowning achievement of these 28 years of my life here on earth. I love them so much. So much. And the other wonderful accomplishment is the one not pictured, the one standing patiently behind me, supporting me, loving me, helping me raise our crowning achievements to be strong, solid, righteous young men with concrete resolve and conviction, yet abounding in compassion. The Chief is the accomplishment I take for granted every day. His is the companionship and relationship I yearned for from the time I was 16. He is the man of my dreams and he is very, very patient with my many imperfections.

In 28 years I have lived on three continents and learned three languages (one that is long since forgotten now). I have earned a high school diploma, and a bachelor's degree from BYU. I have had crushes, obsessions, and dates galore. I have sky-dived out of an airplane twice and gone floating over exciting Provo, UT in a hot air balloon. I have kissed, hugged, and held hands. I have cried, laughed, ached, and yearned. I have been through the temple and become a much better person for it. I have received a new and challenging calling at Church. I have had a c-section, a miscarriage, a VBAC, and an ectopic pregnancy. I have known the joy of child-birth and the pain and frustration of longing for it again. I have visited family, worried over family, and prayed for family. I have received wonderful gifts and given some in return. I have gained weight and lost weight. I have discovered a new hobby, a passion that allows me and encourages me to look more closely at the world around me. And always, always, always, I have tried to center my life around my Savior and walk the straight path toward heaven and eternal happiness with my wonderful and crowning achievements. Twenty-eight years may not seem like long, but it definitely encompasses a whole lot of growth.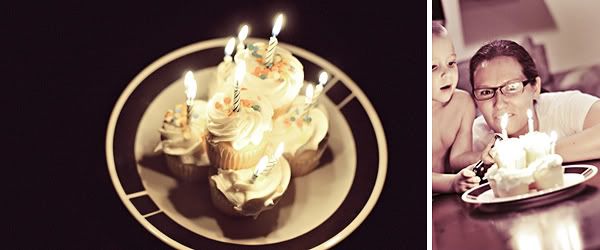 Candles, cupcakes, frosting, and happy birthday singing. Oh, and another workout for the DVD player, of course. This time it had to run fast to keep up with the ants in
A Bug's Life
. What birthday would be complete without some serious schedule-breaking and family vegging?!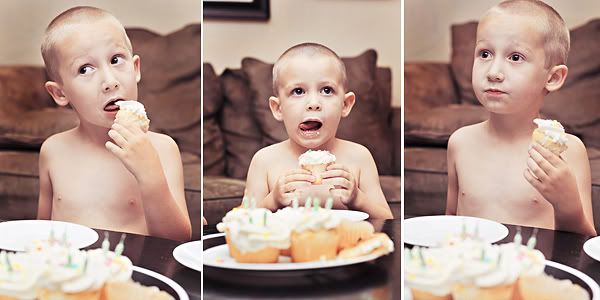 One other funny episode worth mentioning revolves around my older brother's birthday gift to me. The day before my birthday, a check from Daniel arrived in the mail. On a side note, Daniel is one of the most generous people I know. I have been the blessed recipient of his generosity on many occasions and wouldn't be able to produce these beautiful images if not for his amazing desire, ability, and willingness to share. Anyway, so I opened up the envelope and let out a little yip of delight, then stood a moment puzzling over the odd amount. The Chief laughed when he realized that the total on the check reflected my new age. Later, I got to talk to Daniel and joked with him that upon receipt of his gift, it was the first time in my life I had ever wished I was turning about two or three decades older than I was. :0) He got a kick out of that and now my mom is thinking it might not be such a bad thing to be turning 60 this year. :P
Good-bye 27. Twenty-eight is just bursting with promise and potential. I can feel it coursing through me, vibrating in my blood. This is going to be a phenomenal year. A year of growth (just hopefully not physical growth). :0)
Thanks, all, for making my birthday absolutely perfect in every way, shape, and form.
P.S. And the best birthday gift of all is the subtle one that you see, but do not realize you see, on all my photos. The Chief gave me two new Photoshop action sets for my post-processing workflow. I am THRILLED about them and can't wait to use them on this cool photo shoot I did a while back with my friend. Thank you, Papa! You may feel like they are a "lame gift," but I couldn't think of anything I'd rather have (other than a home . . . and we're working on that). :P