MY FIRST ENTRY . . . FINALLY!
Ever since I first saw the 12 of 12 challenge on
Amy's blog
, I've been wanting to participate. It is such a fabulous way to document changes throughout an entire year without necessarily having to create a 300 page photo book. Just 12 pages with 12 photo grids. What a great idea!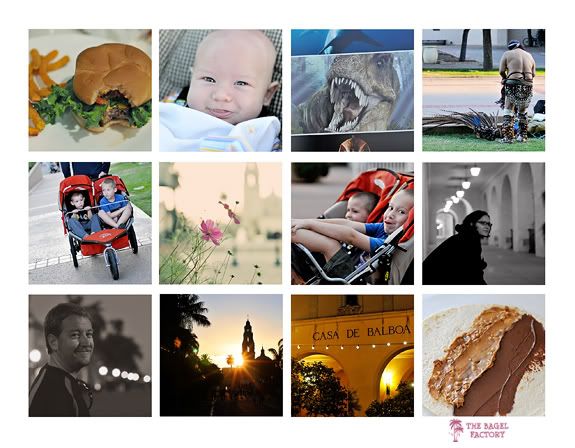 1. The Chief made burgers after Church. Mmmmm. So good. So, so good. My mouth is watering. Huh? Wha? Oh yeah, where was I?
2. Il Pipadore all snuggled up for our Sunday Stroll at Balboa Park. I love Balboa Park. When I think of San Diego, I think of Balboa Park.
3. Museum of Natural History.
4. Cute, pudgy little Native American man who was packing up to go home. He had some serious accessories!
5. I think my boys are growing out of the stroller. :D
6. Pretty little pink flower made a good focal point with the Museum of Man in the background.
7. Since their legs weren't fitting so well under the bar, they propped them up and stretched out. Love the tongue.
8. Me. Photo by The Chief.
9. The Chief. Photo by me. :P
10. Awesome sun flare from behind the Museum of Man.
11. Casa de Balboa. I love the architecture all around Balboa Park.
12. Guilty pleasure here in the Bagel home: Nutella and Peanut Butter Tortillas (we call them Tutella Nortillas). Roll them up and you've got instant dessert. Sooooo delicious.
Go see more fun 12 of 12 entries by clicking the button below!