Today was what I believe can be termed "average" (even though we've only been doing this seven days). We took our time on breakfast - making puffy oven pancakes together - then proceeded smoothly through the basics. I quizzed the boys on the things we've learned in the last seven days and discovered that both of them have phenomenal memories (they get that from their dad - HOORAY). The day was relaxed and comfortable and after school the boys got to go play with some buddies from Church.
I am kind of stumped by Geography. Thursday is our Geography day, but I still haven't done anything much with Geography because I can't decide if I want to go ahead with
Expedition Earth from Confessions of a Homeschooler
, or focus more on US Geography to go along with our US History studies. I'm leaning toward the latter, though I'll definitely be saving the former for future studies of Geography around the world.
I'm also discovering, as we go along, that I love reading out loud with the boys. It's probably my favorite part of homeschool. They love it. I love it. What's not to love about something that is educational
and
mutually enjoyable?! But I'm having a hard time finding appropriate reading for our study topics and for their ages, simultaneously. Don't get me wrong, I know there is plenty out there, but what's difficult is finding titles that fulfill all my criteria without spending all day long searching and compiling. If anyone reading this has any recommendations, I welcome them with eager arms! I'd like to know of titles that can be read out loud to both a kindergartner and a preschooler; books that challenge them, but don't lose them. I want quality reads that are clean and full of good messages. And I'd LOVE for them to relate to early US History, US Geography, and Astronomy. Illustrations would be nice, though they don't have to be on every page or overly fancy.
Is this really too much to ask?! :D I know one of you veterans out there has to have knowledge of a list like this somewhere in your experienced minds! Please share!!
Here are a couple of pictures of the boys getting ready for our read aloud time in our massive bean bag. As you can see, they come prepared with fruit snacks and drinks. :D These photos weren't taken today, but they just fit the post so perfectly and they had yet to be shared here on the blog, so they're making their debut today regardless. Enjoy them! (I sure do.) :P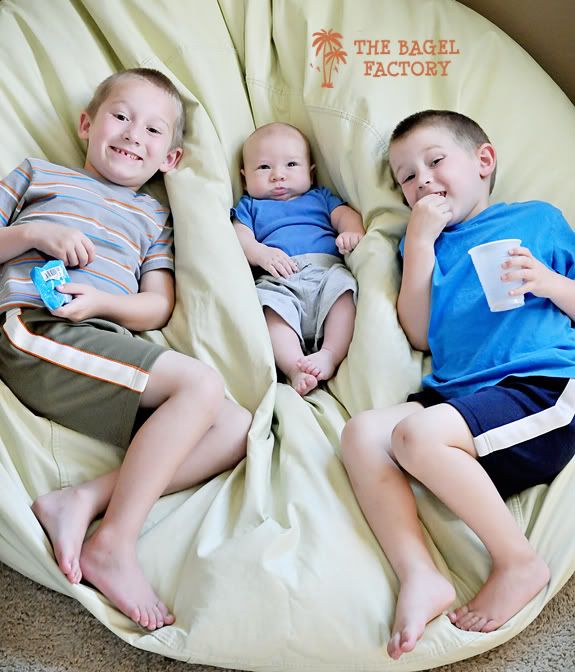 He is SO adored.