So here's the scoop on apple picking in Julian . . . it's fun. You should do it. Our friend, Kim, planned to have a big group show up at
Apples & Art
so that we could get the group discount. Despite repeated pleas on Kim's part for everyone to arrive on time, we were late . . . as usual (much to the chagrin of my super sexy, uber-punctual Chieftain). But all was well in the end, because . . . turns out we weren't the LAST ones to arrive anyway! :D (I know. Nice gauge. I'm a tardy loser.)
So,
Apples & Art
. Not the greatest venue for apple picking. And I say that confidently even though I've never been anywhere else. Their so-called orchard turned out to be a handful of scraggly apple trees scattered on an otherwise barren hillside. The proprietors were NOT kid-friendly, even though they advertise themselves as such. I watched as the man rather roughly shoved a boy aside, hand to his head, during a presentation. He wasn't in any immediate danger, just a little too excited to contain himself as per the directions proffered. The man also reprimanded my boys for "trampling the flowers" and I marvel at his definition of flowers as they were really just tromping through the dead grasses you will see all throughout the following photos.
The apples were rather sad. Maybe that's because it's just the beginning of the apple season, but when none of us was willing to settle for worm-eaten apples at the exorbitant price of $10/bag, the woman hopped after us like a little bird, picking up our discarded apples (and these were not pretty, I tell you), maintaining a constant stream of monologue which included such guilt-intending reprimands as, "the worm just goes in and eats the seeds then comes right back out," (STILL! EW!) and, "these took lots of water to grow" (you don't say) and, "these are organic" (as if that makes holey, wormy apples completely acceptable).
After we picked apples, we hoofed it back down the hill to get in on some apple cider action. The kids got to take turns cranking the wheel of the old-fashioned cider press. Then they broke out the markers and colored our apple bag. That was the "art" part of
Apples & Art
. Rather . . . ahem . . . lackluster.
So why did I say it was fun? Because for all my griping - and in the owners' defense, I was being that annoying, know-it-all, defiant teenager type that day (it was HOT and I don't do heat) - for all my griping, the boys still had a great time. And if my kids have fun, then in the end I'm happy. Besides, I got great pictures, so I really can't complain (ha! apparently I do anyway).
But if you ask me how we disposed of our bag full of wormy, holey, seedless, sour, organic apples, I won't look in the direction of the corner of my kitchen where they're still sitting in solitude, lonely and forlorn, unappreciated and uneaten. I won't. Because I'm going to start trying to be nice about this whole thing right. this. minute.
Oh hey! And I forgot to say that just down the street from
Apples & Art
, where our car was just one of a handful, there was an extremely busy orchard (that really looked like an orchard) just teeming with cars and people. I think we'll try that one out next time.
Okay, reset my
nice time
, I'm ready now.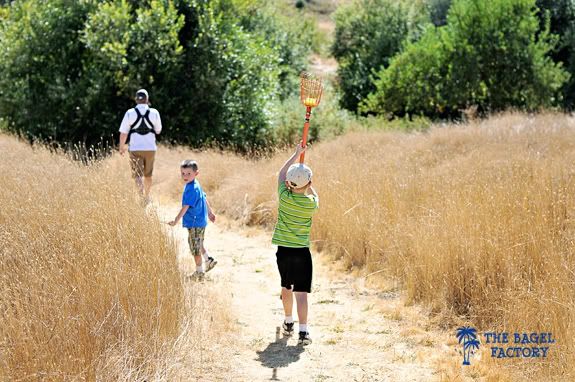 The Chief leading his little braves into action.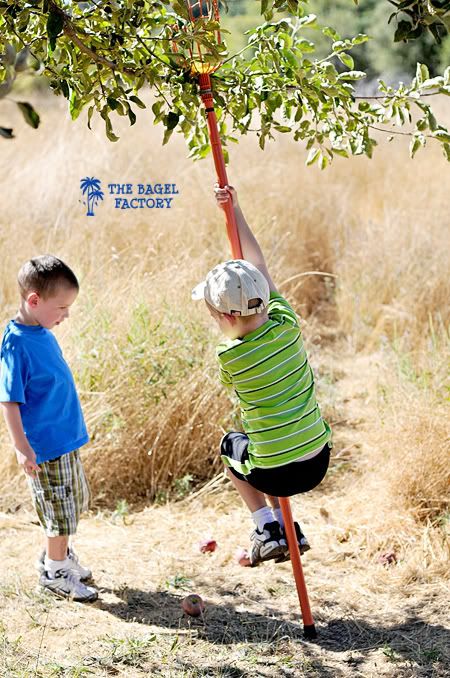 I think we missed the instructions. I'm pretty sure we weren't supposed to do this. Don't worry, I reprimanded him after I got the shot (like any good photographer/mother would do).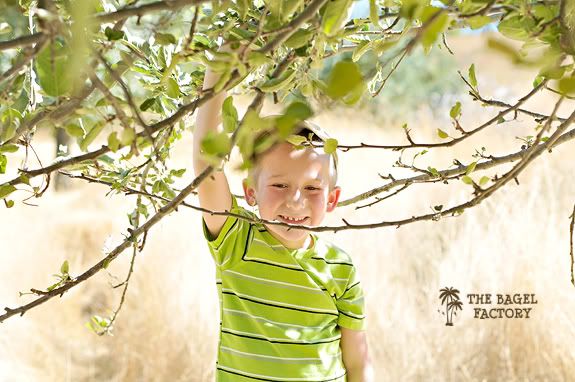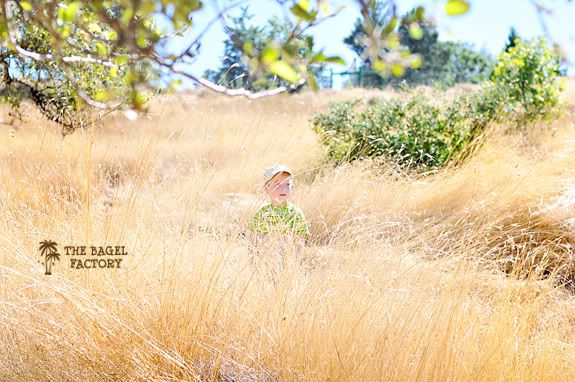 Potty break in the great outdoors.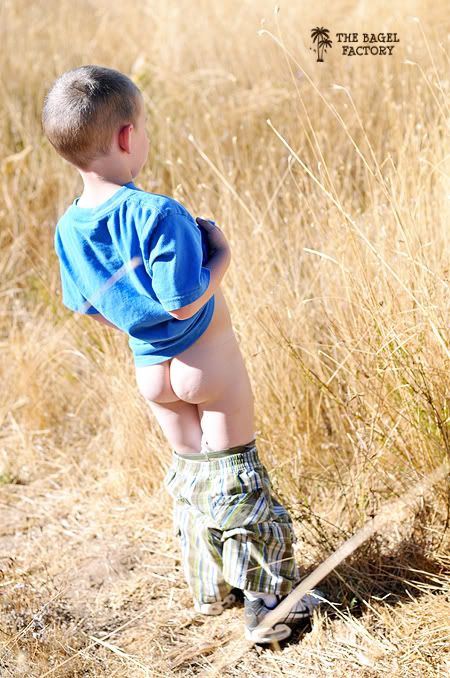 Monkey see, monkey do. Oh how I love those dimpled buns!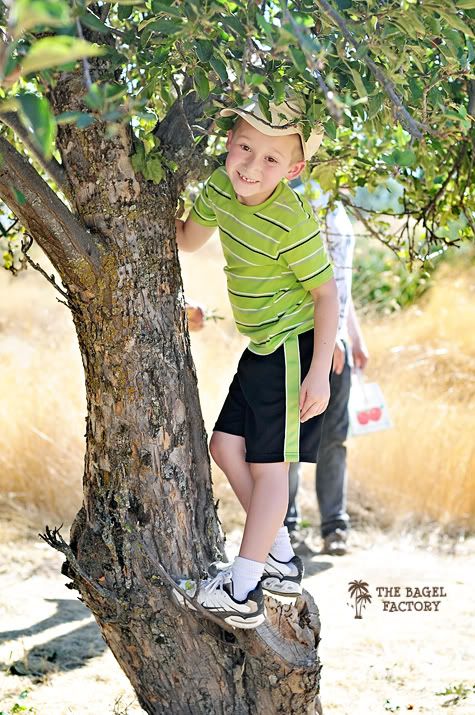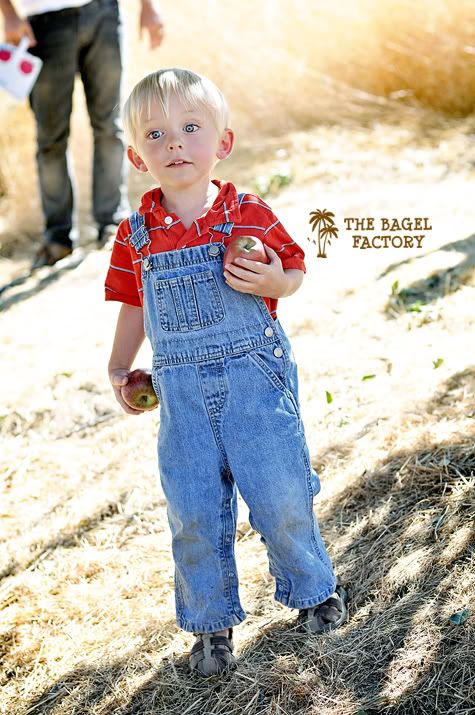 Farmer Corbster!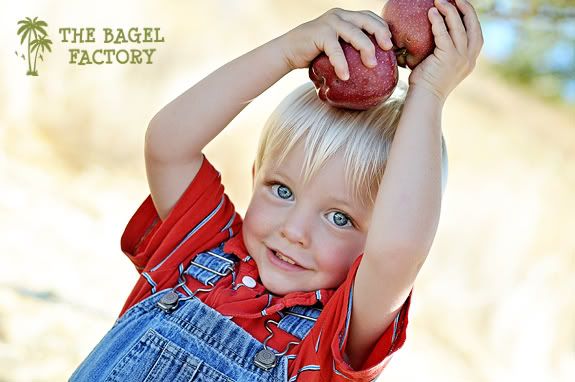 This has something to do with a song about 10 apples on your head or something. Whatever it is, it's really cute.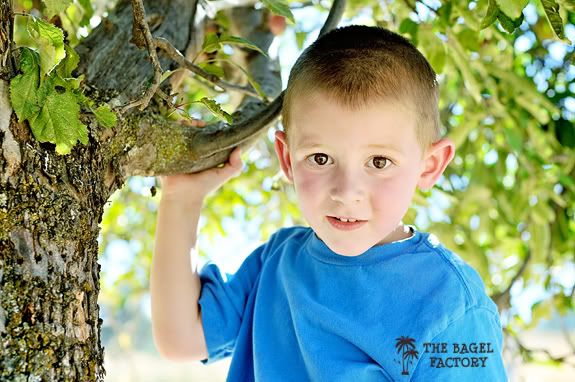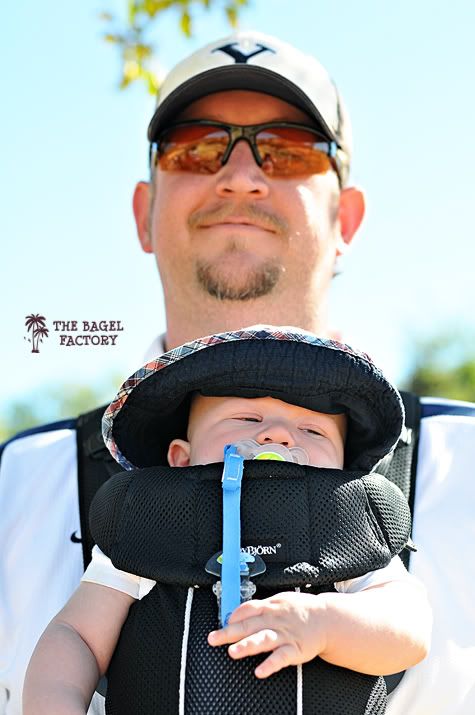 The Chief is such a great Papa. He hates to be hot even more than I do, but he wore that little heater with pride so his Momma could take pictures to her heart's content.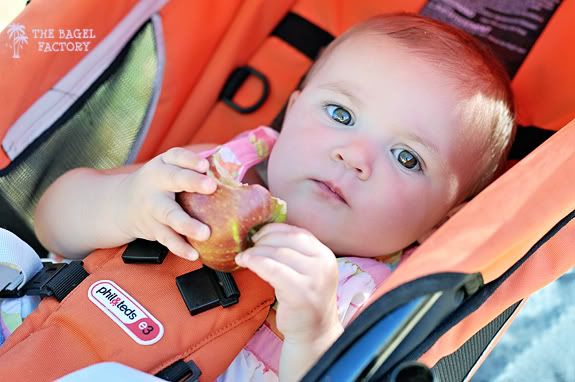 I love this little Miss!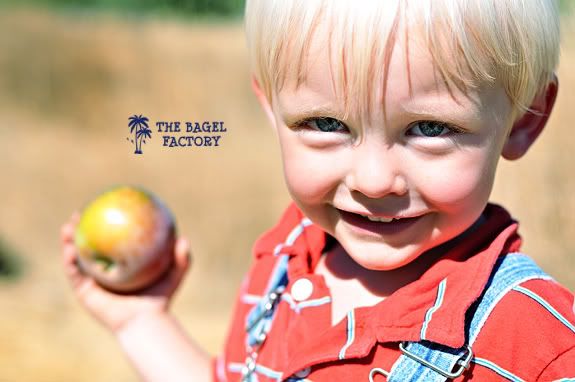 Another face that has carved out a little niche in my heart. I love these kids!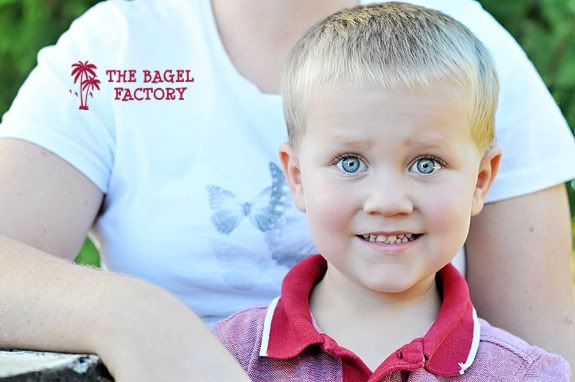 Check out the eyes on the Van Man! (His mother calls him Pestilence. Or was that one of her other boys? I can't remember. But that confession had me laughing OUT LOUD, I assure you.)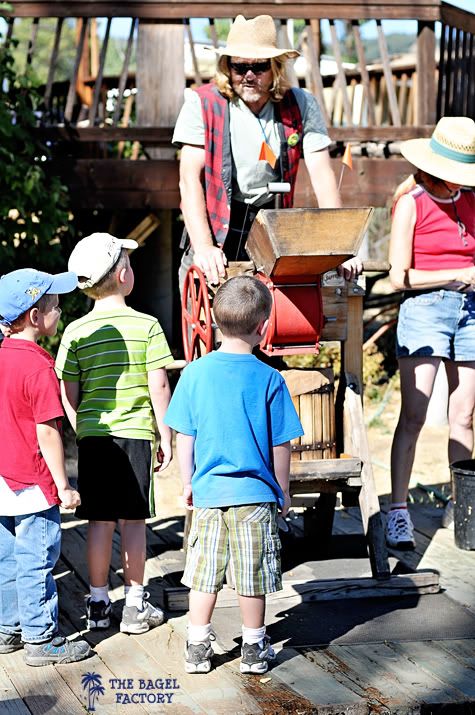 Let the apple pressing begin!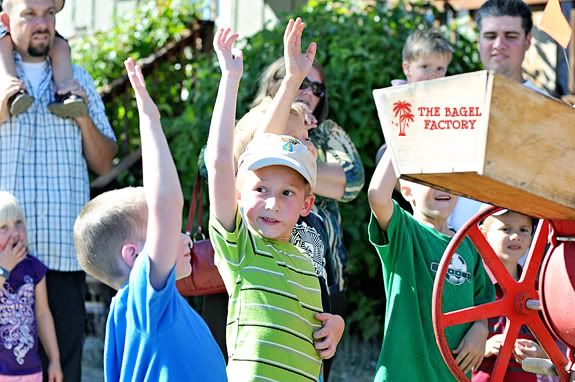 "Who wants to help?" Oh, oh, oh. Meeeeeee! Me, me, me, MEEEEE!
Pure concentration.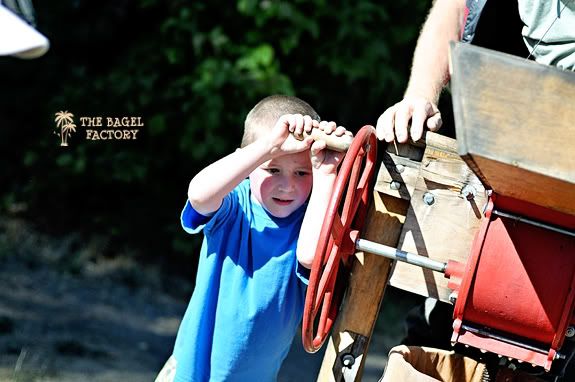 "Is this thing working?"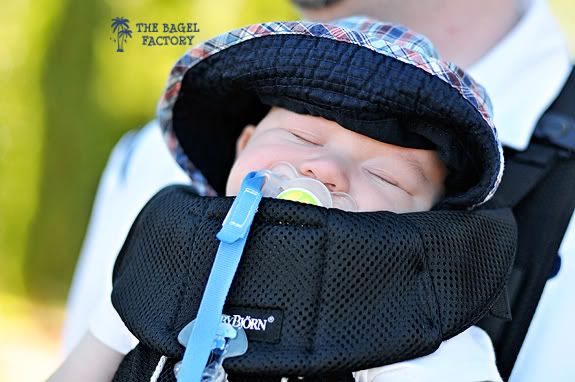 He has succumbed.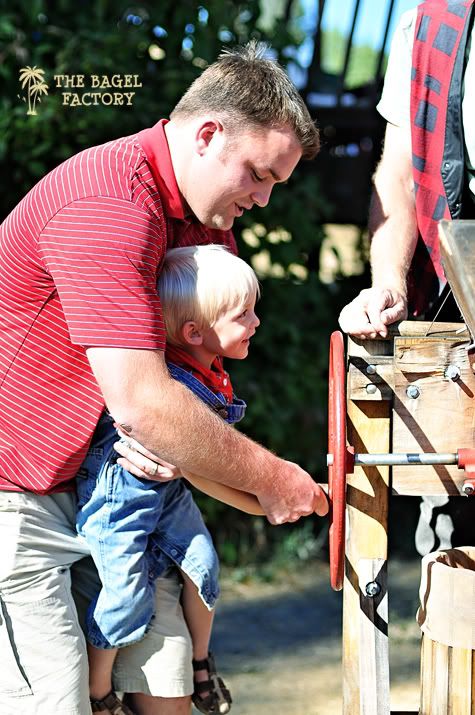 CAC takes a turn!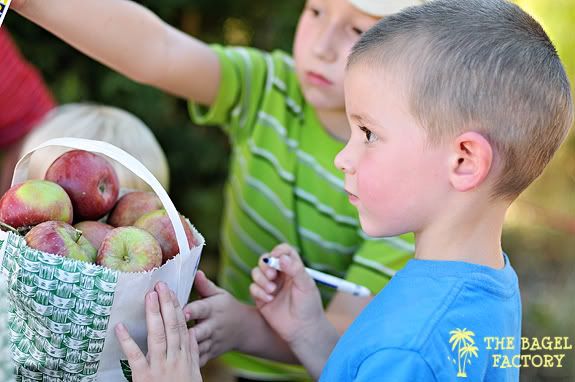 Time for the art part ("Sink me. The lady's a poet." Name that movie!).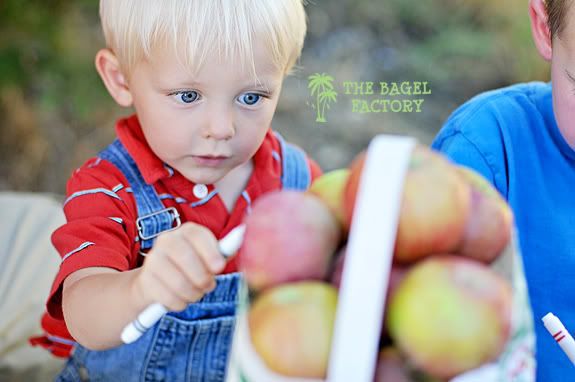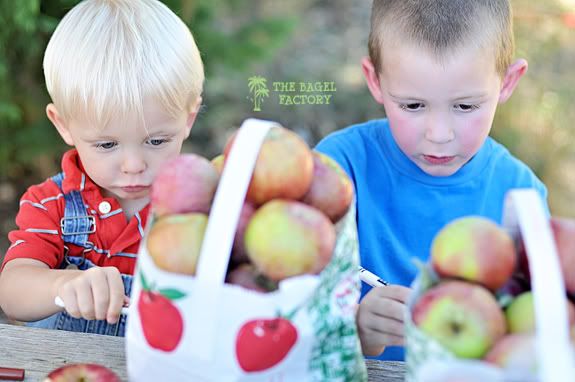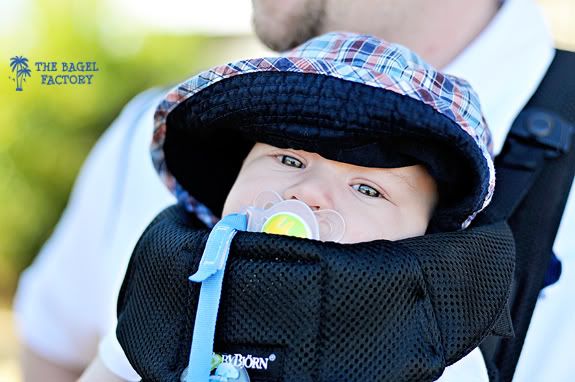 Cat naps. That's all we get on these adventure-packed days. Poor little tired man.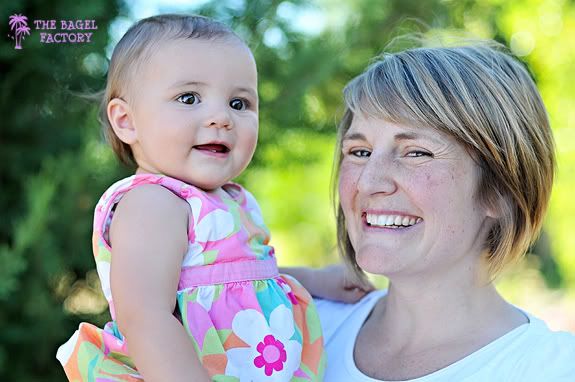 These two ladies are my favorite girls! I can say that, you know, being surrounded as I am by testosterone. No little girly's feelings to hurt over here in the Bagel Factory.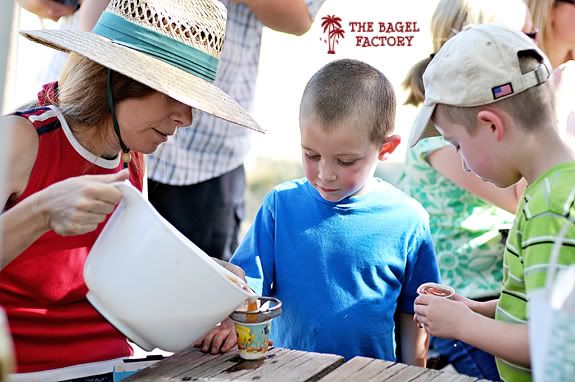 Cider! The boys LOVED the cider. So did I. It was delicious.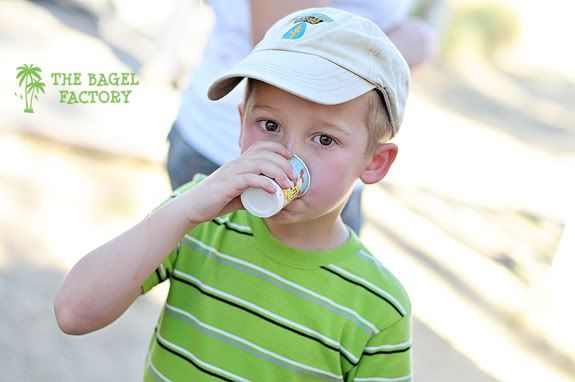 Lip-smacking good!
The End! Thanks for a fun day, Kim!!