So, first of all, there's just a couple of things about Soren's birthday that I'd like to share. We celebrated in the evening on the 12th. I asked Soren what kind of a cake he wanted and he was very decisive in his response, "RECTANGLE!" Well, kid, you're certainly easy to please. And good thing, too, because Mommy is not a kitchen person. We had a good time eating pasta, opening presents, then chowing down on cake and frozen yogurt (Golden Spoon - THE BEST!). Soren wanted everything chocolate - chocolate cake with chocolate flavor (no frosting, so I have no idea what "chocolate flavor" meant) and chocolate frozen yogurt. He is definitely my child. We got him some clothes and some books and a couple of cars. Our big gift to him this year is a Leap Frog computer keyboard that hooks up to the TV. We have yet to see it work since our refrigerator-stored batteries seem to have questionable functionality. Soren also got a special gift from our friend, Shelley, that she left on our front door - more chocolate - in the form of a donut and a Kit Kat! How did you know that he LOVES Kit Kat, Shelley?! And thank you for your thoughtful card. That was so kind. He was thrilled with that surprise gift. Grandma and Grandpa A. gave him a cute shirt that he's quite proud of since it declares him a "champ," and also gifted a "Cars" car that launches out of its pit stop. He loves it. Actually, I think that's an understatement. He adores it. And...so does Anders. Anders was hilarious all throughout the present opening. He proclaimed each item was really his and kept trying to take stuff away and sneak those little fingers into gift bags. He still thinks the keyboard is actually his. I can't wait for his birthday next week. He's going to love it! Soren got phone calls all day on Tuesday and Wednesday. He loved that, too. It was so funny to watch his face light up when I would yell down the hallway, "Soren, telephone!" He'd come running and then shyly mumble his way through conversations with loved ones. I'd wager it's safe to say he loved the phone calls just as much as the gifts, so thank you.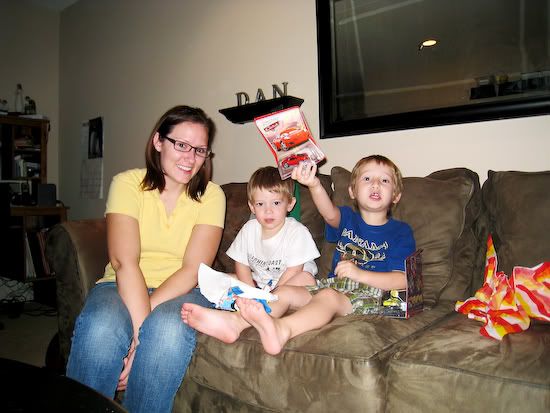 Singing "Happy Birthday" to Soren.


So today, in an effort to "stop the insanity" at the computer, the boys and I took off for a much needed Mommy and sons date at the beach. Turns out, it was
exactly
what we needed - all of us. It was a warm day with lots of sunshine and hardly anyone at the beach. The waves were extremely small, so combined with a very "flat" beach, there was no stress for Mommy. The boys ran in and out of the water, getting soaked then shedding clothes, tromping through waves in nothing but diapers. Innocence in action is a very rejuvenating thing to witness. We built a sand castle, searched for seashells, chased some too-bold birds, and made new friends. A perfect day. And tomorrow will be even better since I've taken a friend up on her offer to watch my boys while I go to the temple. I am so looking forward to that.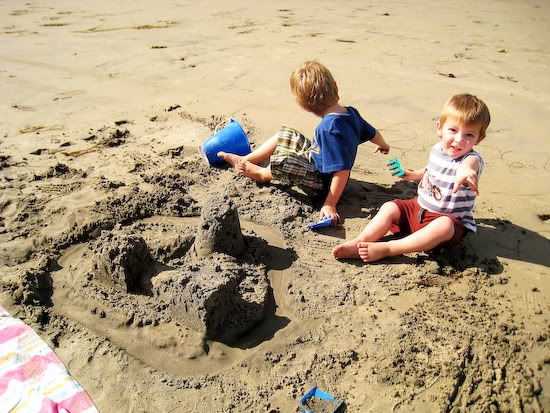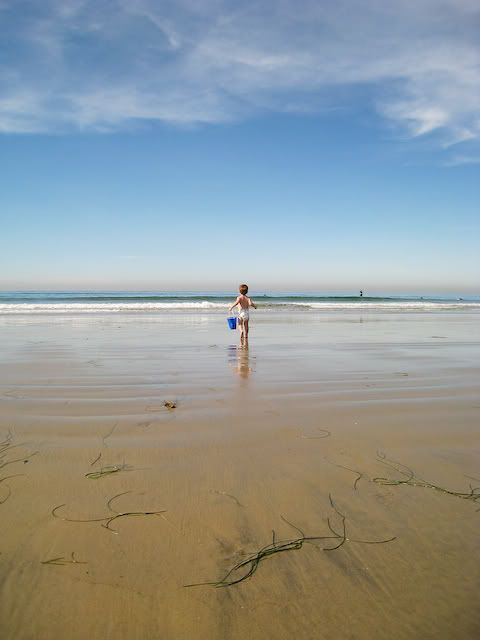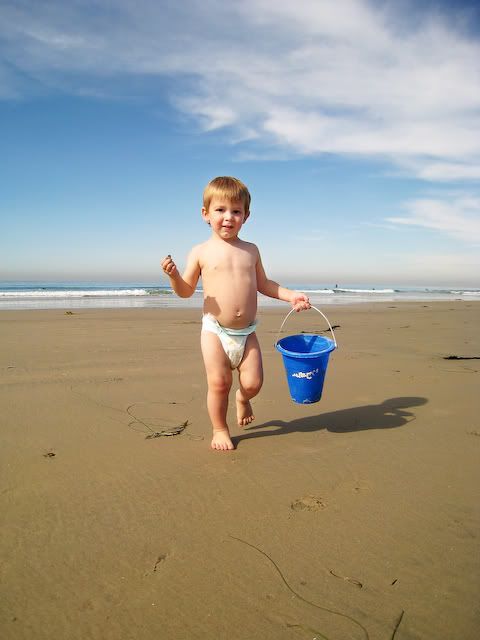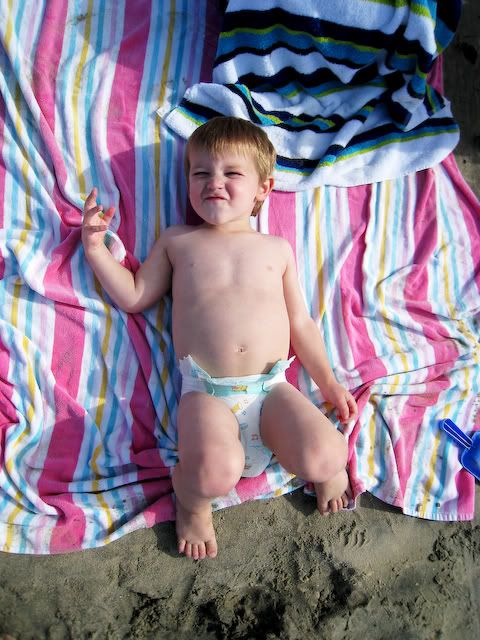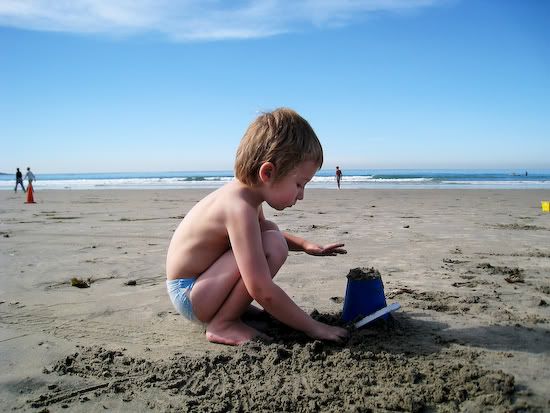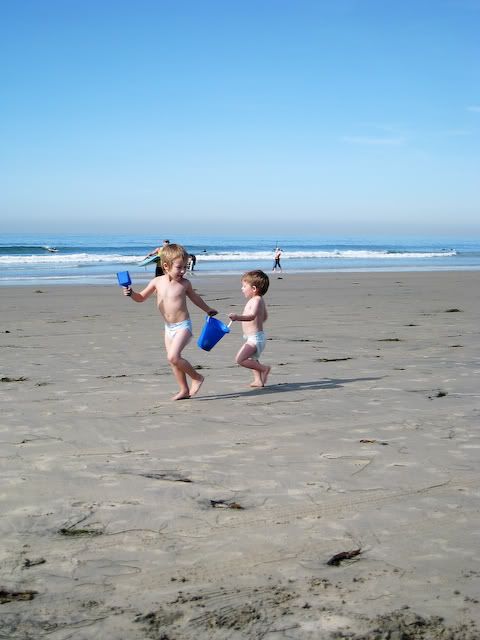 Just a thought about the beach. It was funny to sit in my beach chair and people-watch...something I have always found amusing. What I discovered today is that our high school caste system is still very much intact in other locations and stages of life. See what I mean....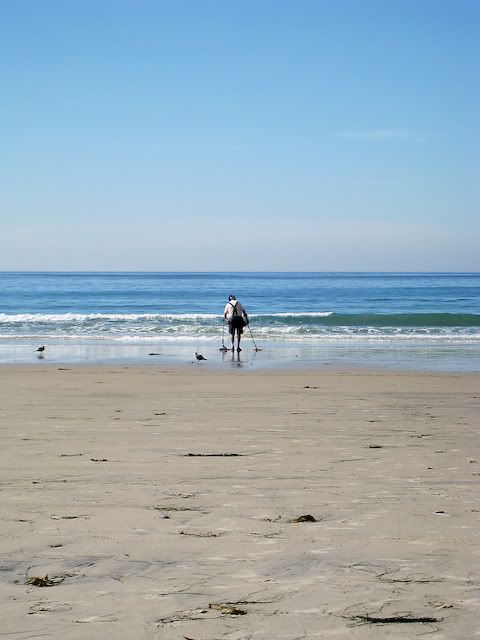 ...the nerds...
...the jocks...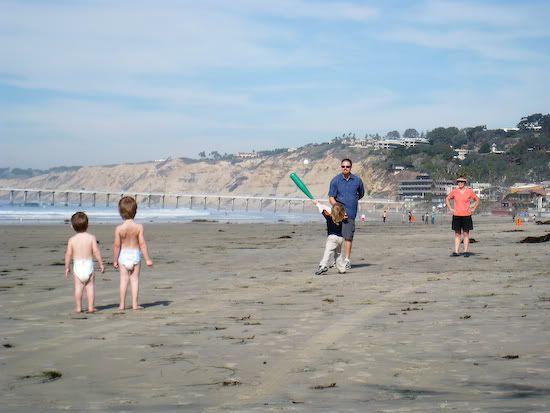 ...and those who walk through life with their very own, adoring fan club.
And then there was this one exchange that was absolutely hilarious to be a spectator for. I wish I could have gotten it on video. There I am just chillin' in my chair and I notice red-bikini clad blonde come dripping out of the ocean, fins and snorkel in hand, sultry hair-flinging in action. At the same moment, shirtless guy comes walking by, does a double take, falters, then continues on with backward glances every, oh, millisecond or so. Then, as if he isn't being obvious enough with his chiropractic-reminiscent neck craning, he puts out both hands, palms up, and proceeds to make a questioning, weighing action in the direction of his two shirtless buddies while he looks back at the blonde "bombshell." Oh brother. I felt like I was watching a Neanderthal gathering as the three dudes pow-wow'ed to discuss further action. Then, as the blonde was joined by her brunette friend, the guys hesitantly started walking in the girls' direction, looking to each other every two seconds for reassurance and ego-boosting. The five never rendezvoused. The Neanderthals chickened out. Wusses.
Frollicking in the waves.


Chasing belligerent birds.


Bucket train!