Dear Anders,
Two years ago, at exactly 4:18pm, you squeezed your way through the birth canal, and, in fulfillment of Mommy's dream to forgo another c-section, successfully emerged VBAC style. You were the calm after the storm of miscarriage and you were such a sweet little baby, only squawking when you wanted food or needed a diaper change. Your silence then is being more than amply made up for now, right this moment, as you scream your objection to my potty break right in my face. Obviously, you are just as strong as your brother and you will need that strength as you join him in the ranks of the Lord's army, fighting fire with water, advancing on relativism with righteousness. The world needs more good young men. I look forward to watching you with your precocious little personality grow up. You are a very, very precious addition to our small family. I just asked you, just now while looking at your birth pictures, "There you are, Anders, coming out of Mommy. Do you remember being in Mommy's tummy?" You replied, in all your two-yr-old innocence, "Yeah, sleepin'. My home. Love him." You melt me. Totally and completely.
One year ago, you turned one. We had just recently moved to California and apart from a harrowing evacuation experience, we were loving our new home! You were an early walker just like your brother, so you were zipping all over the house, hanging out with family, decorating cupcakes for your birthday. You have always been such a happy boy, so ready to laugh and smile and joke around. You are our little comedian. I see "class clown" in your future, for sure. For more details on the one-year-old you, just click
here
.
One month ago, you were experiencing the great Prop 8 overhaul along with the rest of our little family. Mommy had started a "defending marriage" blog and we three were staking out intersections for sign waving "fun." You were also practicing to be Spiderman at Halloween. You did a great job running around, "reeling" people into our entryway for trick-or-treating on performance night. One month ago, we also made it back to our favorite pumpkin "patch" fair thingy where you and your brother cruised through the pumpkins, climbing all over everything and going on fair rides. You made us laugh, as you tend to do a lot, when you cuddled up with the biggest pumpkin you could find.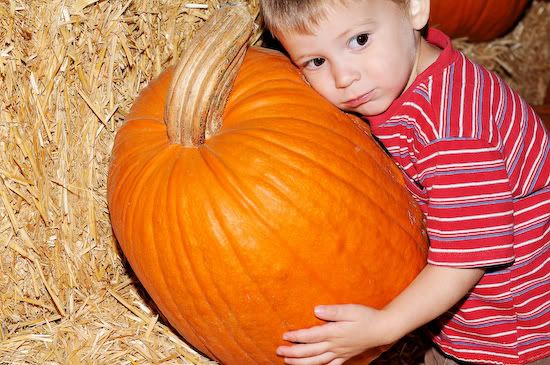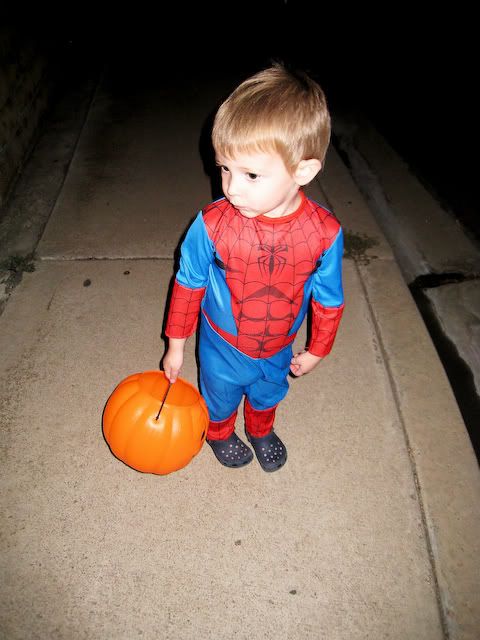 One week ago, we were celebrating Soren's 4th birthday and Veteran's Day. You were just getting better from being sick. You loved Soren's chocolate birthday cake, and, very typically, you were insisting that all of Soren's presents were, in fact, yours. You still think his keyboard is yours.
Today, you are two. A happy-go-lucky, mischievous two-year-old. Though you are currently experiencing one of those typical toddler speed-bumps (teething), you are normally the happiest kid I know. Anytime your brother wants something that you are playing with and puts up a huge fuss, you hand it right over in a very loving way. You say the funniest things like "back-y-ard" and "get-y-me-out." You love Mexican food and whenever we ask your opinion about what to eat for dinner, without fail your answer is a resounding "COTIJAS!" You love that place (as do I, little buddy, as do I). You love to rub my arms and cuddle and give kisses. You have the softest cheeks in the world and the most hilarious little grumbly voice that you use to say things like "NO! NO! NO! Dang it!" You clap your hands together in your crib to get my attention and let me know that you are awake. You love to mumble to me and wave night-night to Daddy while you are nursing. You are so cute I could just roll you up and eat you (but I won't, because then I wouldn't get to look at your cuteness anymore)! You love shoes and often crack me up with this obsession of yours. You'll traipse in from the back of the house sporting humongous dress shoes belonging to your attorney father. You clop around the house in those until you realize they aren't fast enough then abandon them for the next cool thing - a pair of massive flip flops. You always want to wear shoes - inside the house and out, with socks or without, girly heels or manly soles. You do not discriminate in the shoe department. While your brother brought a somber and reflective nature to this earth, you balance each other out perfectly because you came bearing gifts of humor and laughter and comedy. God blessed us twice and we hope to add still more unique personalities to our family. You will make a great big brother and role model to the next little bagel we hope comes along soon!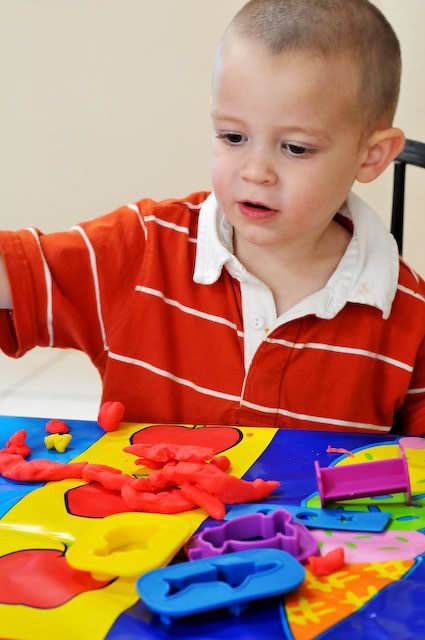 Since I started writing this yesterday, but couldn't get to the headlines, you'll have to settle for today's headlines (11/19/08) to give you an idea of what was going on in the world when you turned two.
LA TIMES
MOCA Faces Serious Financial Problems: The museum has burned through $20 million in unrestricted funds and borrowed $7.5 million from other accounts. Cash from donors is being sought. A merger is one option.
Calif. High Court to Hear Challenges to Proposition 8: The justices refuse, however, to allow gay couples to resume marrying until they rule on the ban's validity.
Firefighter's Stand Saves Former Neighbors' Homes: Los Angeles County Fire Capt. David Yonan's perseverance helped save 131 homes even after he found Oakridge Mobile Home Park mostly destroyed.
NEW YORK TIMES
Dow Drops Below 8,000 in Another Stock Sell-off: Shares on Wall Street closed at their lowest levels in five years as hope dimmed in Washington for an emergency bailout of the auto industry.
Consumer Price Decline Prompts Fear of Deflation: Consumer prices fell in October by 1 percent, the largest drop in the history of the survey, raising the specter of deflation.
New York Police Fight U.S. Over Eavesdropping: The New York Police Department wants the Justice Department and F.B.I. to loosen their approach to federal law that governs electronic surveillance, which federal officials have refused.
Daschle to be Nominee for Health Post in Obama Cabinet: Tom Daschle, the former South Dakota senator, has accepted Mr. Obama's offer to be Secretary of Health and Human Services, Democrats said.
Hopes Dim for Quick Bailout for Automakers: The chief executives, of G.M., left, Chrysler, center, and Ford, right, were unable to convince lawmakers to aid their industry by tapping the financial rescue program.
WASHINGTON POST
Dow Dips Below 8,000 on Poor Economic Reports: Markets dive sharply in final minutes after Fed report shows its leaders expect further weakening and are considering cutting interest rates again.
Obama Picks Daschle for HHS: Sources say S.D. Democrat is president-elect's choice to head Health and Human Services.
Bill Clinton Opens His Records: Bowing to vetting process for wife, Clinton agrees to clear charitable activities with Obama team.
Woolly Mammoth DNA Unraveled: Scientists reconstruct more than three-quarters of genome -- a first for an extinct species.
Japan Examines Links in Knifings: Police probe whether attacks on bureaucrats are tied to botched computerization of pension records.
McDonald's Reaches Out to Mom: Fast food chain launches program to win over one thing that stands between a kid and french fries.
WALL STREET JOURNAL
Bankruptcy Still Off Table for GM: GM is resisting suggestions that it make preparations for a bankruptcy filing, a position complicating a high-stakes faceoff on Capitol Hill.
Health-Care Revamp Has Wings: Obama's choice of Daschle to head Health and Human Services puts a skilled Capitol Hill navigator in charge of the president elect's bid for universal health care.
South Could Gain as Detroit Struggles: Nonunion workers and more-advanced technology are helping Detroit's rivals weather the downturn better.
Stocks, Bonds Stumble to New Crisis Lows: Stock and bond markets fell to their lowest levels since the outbreak of the economic crisis, as worries about rising defaults by borrowers drove a new wave of concern about the financial system's health.
Prices Post Rare Fall, Giving Fed Officials a New Test: U.S. consumer prices fell 1% in October, their largest monthly decline since World War II, adding to deflation concerns.
Wider Interventions Would Yield Winners, Losers: Obama is promising to intervene in the economy in ways that Washington hasn't tried since the 1970s.
Militants Impede NATO Supplies: Islamist militants loyal to a powerful Taliban leader in Pakistan have moved in to block a supply route to NATO forces in Afghanistan.
SAN DIEGO UNION TRIBUNE
Court to Hear Challenges to Proposition 8: The state Supreme Court decides it will review legal challenges to Proposition 8, the voter-approved initiative that bans same-sex marriages. At the same time, the justices decline to stay the effect of the proposition.
Gates Rejects Valor Medal Review for Fallen Hero Peralta: Defense Secretary Robert Gates has rejected a request by several members of Congress to upgrade the valor award for Marine Sgt. Rafael Peralta, the late Iraq war hero from San Diego.
Dow Plunges Below 8,000: Wall Street hit levels not seen since 2003, with the Dow Jones industrial average falling below the 8,000 mark.
Spanos Stands Up for Turner: Norv Turner will be the Chargers' head coach going into the start of the 2009 season. "I'm committed to him," team president Dean Spanos asserts.
DESERET NEWS
Calif. Supreme Court to Take Up Gay Marriage Ban: California's highest court agreed Wednesday to hear several legal challenges to the state's new ban on same-sex marriage but refused to allow gay couples to resume marrying before it rules.
Senate Denies Judicial Appointment: The Utah Senate has voted 16-12 to deny confirmation of Judge Robert Hilder to the appellate court bench.
Defense Argues for Convicted Killer to be Spared Death Sentence: Trying their best to close the door on death row to Glenn Howard Griffin, defense attorneys and a forensic psychologist argued to a jury Wednesday why the convicted killer should be spared a date with the needle.
Local Theaters Gear Up for 'Twilight': Stores around the world have sold millions of copies of LDS author Stephenie Meyer's "Twilight" books — nearly equaling the success of J.K. Rowling's blockbuster "Harry Potter" series.
Obama's Attorney General Selection Prosecuted Joe Waldholtz: Eric Holder —who news agencies reported Wednesday has accepted an offer to become Barack Obama's attorney general —has interesting ties to two old, big Utah news stories that created national headlines in their time.
Gay Rights Bill Gets Committee Approval: A proposal that would allow financially dependent gay couples to sue in the event of a wrongful death has won support from a legislative committee.
MormonTimes.com - Heart Transplant Preceded by Different Change of Heart: Angela Andra received a heart transplant at 20 and ultimately converted to the LDS Church. She is believed to be the first female heart-transplant patient to serve a Mormon mission.
State Revenue Picture Gets More Grim: Get ready for some more bad economic times for Utah State government, with layoffs of state workers and a reduction of programs for Human Services' recipients and other "critical" areas potentially considered, state legislators were told Wednesday.
HAPPY 2ND BIRTHDAY, ANDERS!