...like around 9am, on 11/27, I started a food prep process the likes of which our humble kitchen has never seen (well, at least not since last year when Mary cooked Thanksgiving dinner for us). I have to say I am quite proud of my Thanksgiving dinner. For someone who literally NEVER cooks, I think I did a decent job for my little family and our two large-and-hungry guests (my brothers).
I pulled all my recipes from Food Network's front page. Since I was searching for recipes a mere three days before Thanksgiving, I thought it appropriate that they had the easiest and best-loved recipes listed right there, first thing. Savvy Food Network people.
So, in reality, the process began the night before Thanksgiving with my creation of a yummy-smelling turkey brine solution. After cooking for some time, it promptly went into the fridge to chill. The next morning, we (anytime I speak of raw meat, "we" actually means "Dan") submerged the turkey in the solution and let it soak in our fridge for six hours.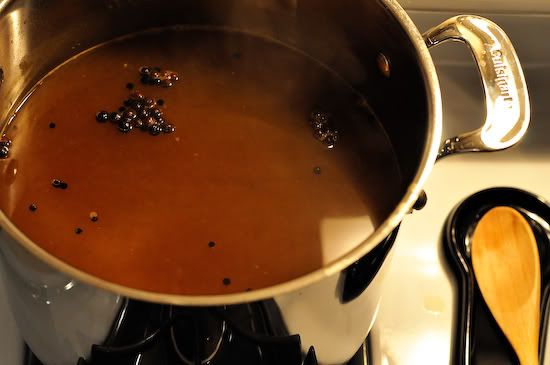 In the meantime, the boys and I cooked our pumpkin bars that would be our dessert.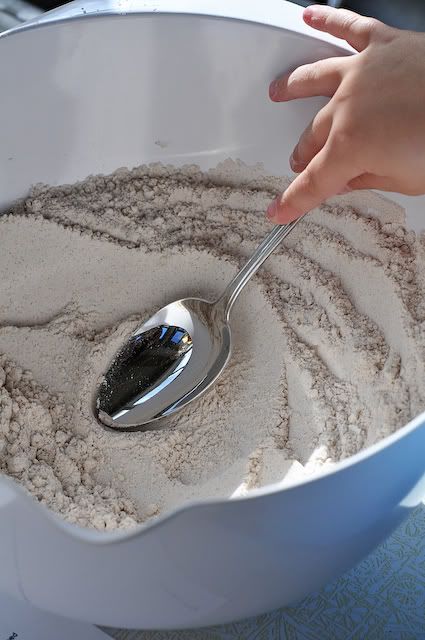 Dessert duty was followed by cranberry sauce duty (Dan's project).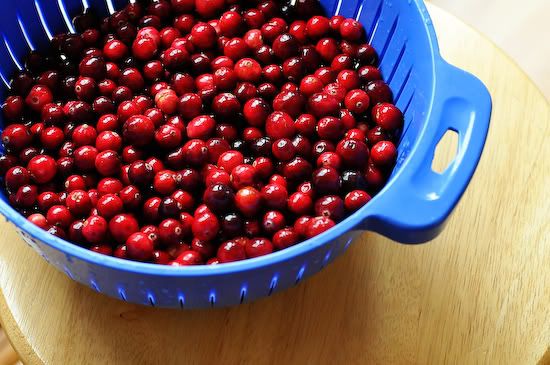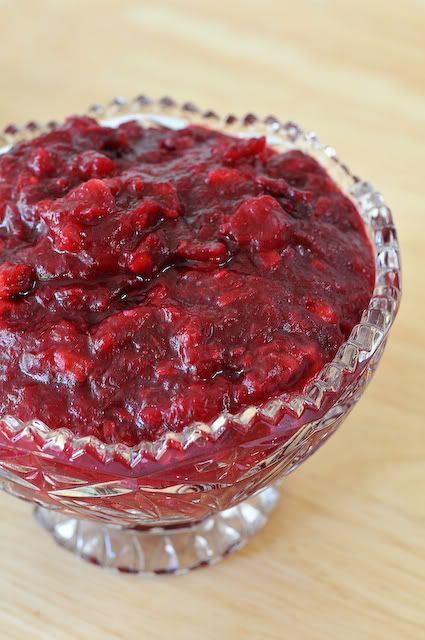 Then, we waited...and waited...and waited.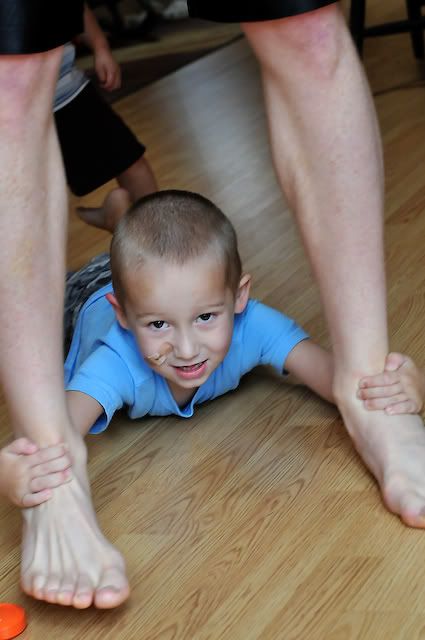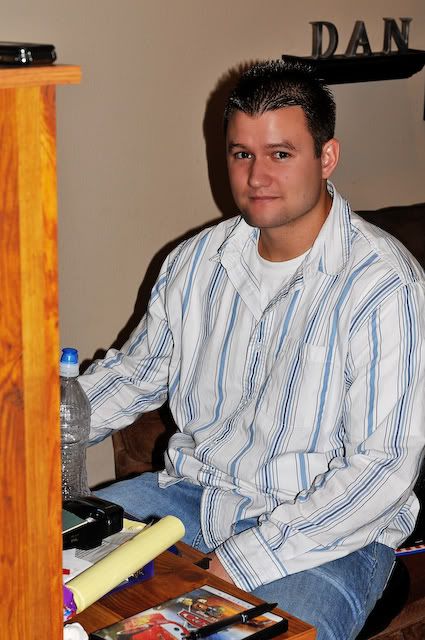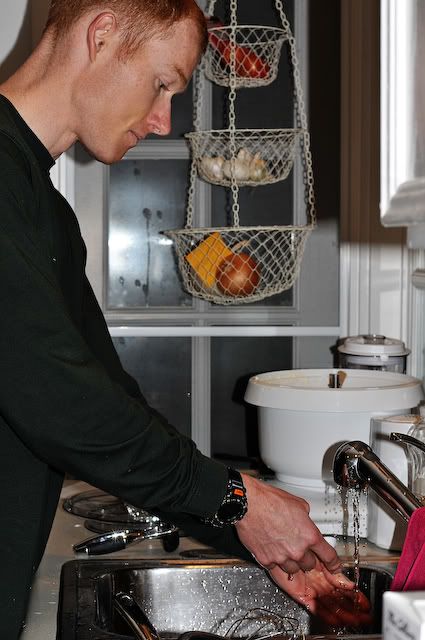 Closer to dinner time, we made onion/green bean casserole, delicious skin-on mashed potatoes, brown gravy, stuffing, and corn on the cob. I also whipped up some cream cheese frosting for the pumpkin bars.
By the time the turkey thermometer read 160, the giant, hovering, behemoth boys were starving (as were the little ones). I swear they were like a school of circling sharks, and when dinner was served conversation was almost non-existent as the men dove into their food with a frenzy, practically inhaling entire plates of food. As a first-time Thanksgiving dinner maker, it warmed my heart to watch their enthusiastic reaction to the yummy food.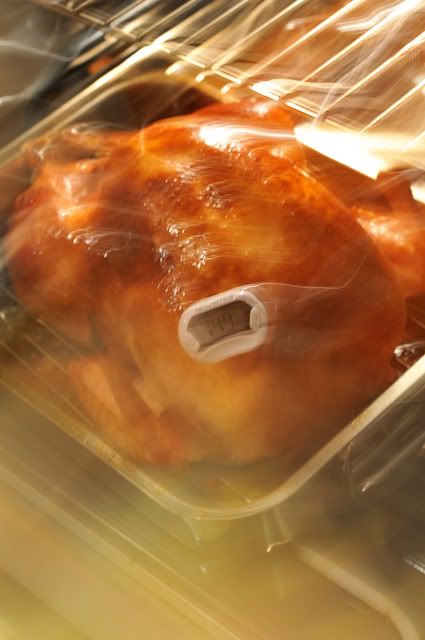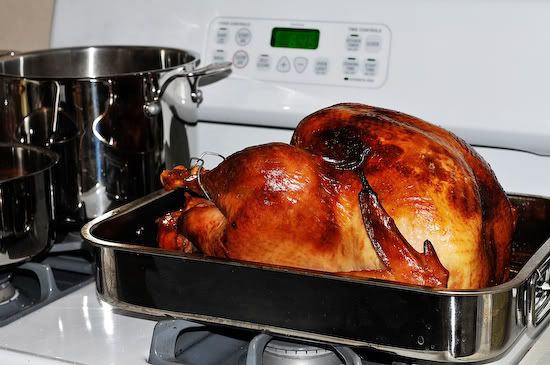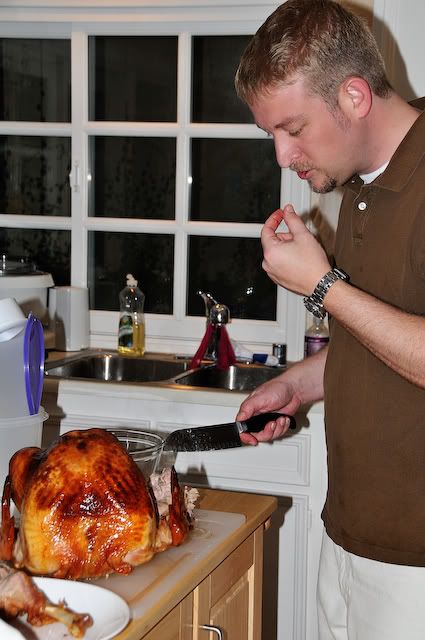 Thanksgiving 2008 - Success!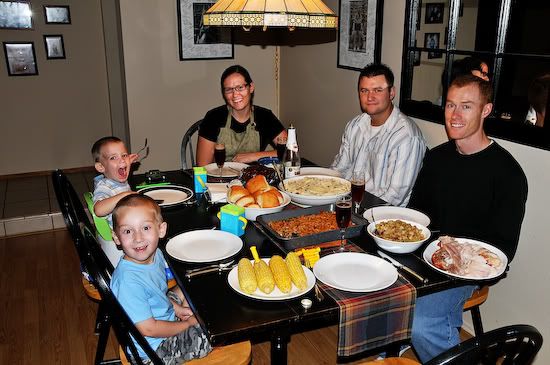 Things I would do differently next time:
1. Make homemade rolls
2. Buy a regular turkey, not a free range turkey (which tastes really fowl-y).